As 2022 is coming to its end, it is time to sit down and reflect on the past year.
With all the craziness going on, we thought it would be a good idea to appreciate all our achievements, big or small, and just be grateful for everything that happened.
Let's jump right into it. 👇
January - setting goals for ourselves and the company
We started the year with a pretty big decision - shelve HackConf and HackBulgaria (our popular brands), and focus everything on HackSoft.
Everybody knew about HackConf and HackBulgaria. Almost nobody knew about HackSoft. Yet, HackSoft was the main driver behind all of this.
That's why we decided to focus our marketing and branding efforts towards HackSoft - there are a lot of good stuff to show!
Apart from that, we were active with our blog, starting with 2 articles:
February - HackSoft turned 8 🎉
HackSoft's team celebrated the company's birthday together at the office, with cake and drinks. We had a lot of fun and continued to set goals for the year.
We prepared a special infographic, sharing our journey throughout those 8 years!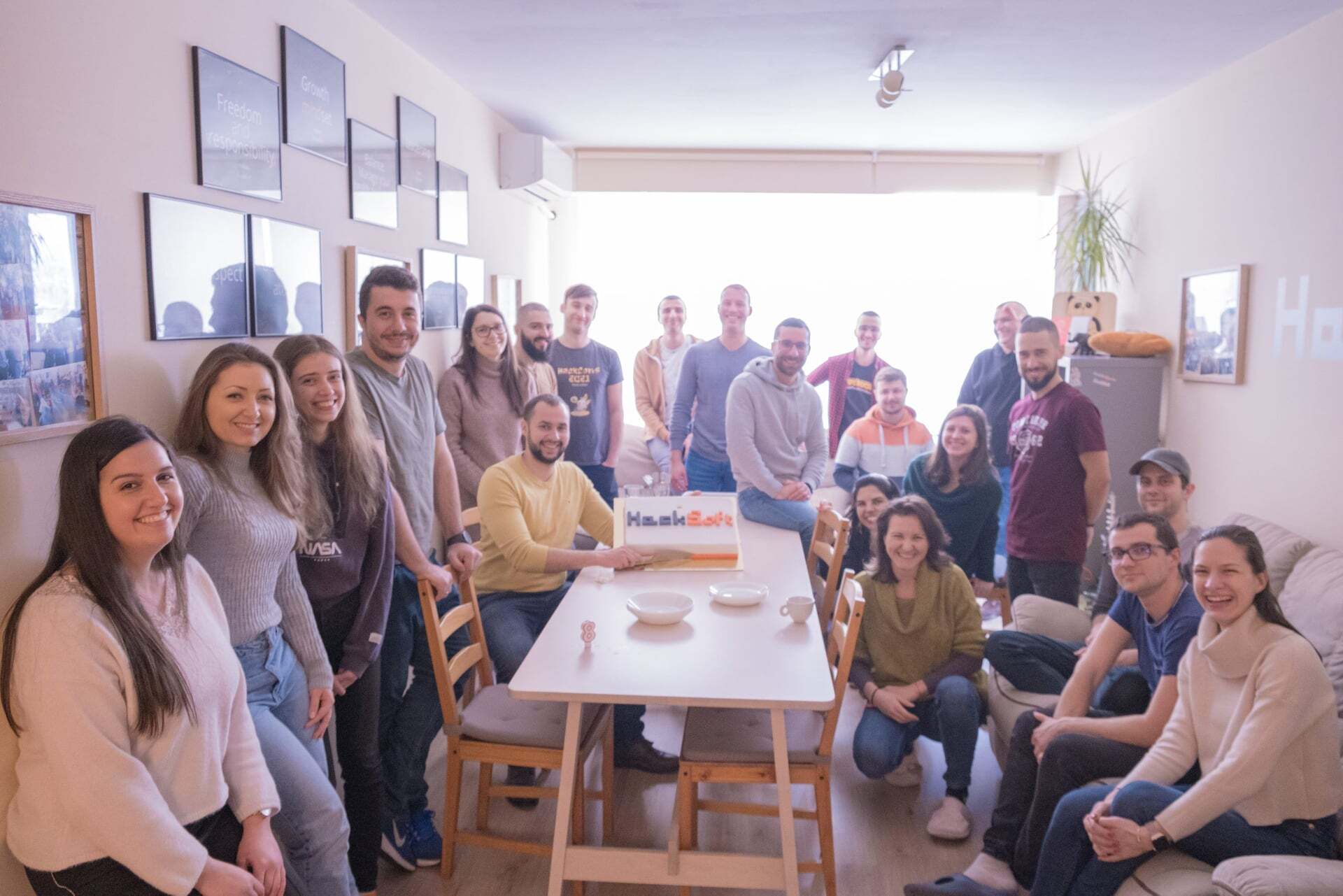 8 years sound like a lot! For us - they went by so fast. The company growth was a function of our individual growth. It took us some time to get here & sit on a more stable ground, yet we learned a lot.
And, of course, we are just getting started 👀
On top of that, we continued being active with our blog, with 3 more articles:
How we build software - which is also audio narrated!
And even more (February was a good month), after a nearly 3-year pause, we started organizing the local Django Bulgaria Meetup again!
Our colleauge, Ventsislav Tashev, talked about Django related fields & the caveats of implicit SQL INNER JOINs
March - the first in-person Django Bulgaria Meetup for the year
Following-up with the restart of the local Django Bulgaria Meetup, we did the first in-person meetup for the year!
Our colleague, Martin Angelov, talked about Django Model Factories - Lessons Learned.
The place of the meetup was Barter Community Hub, in Puzl Coworking.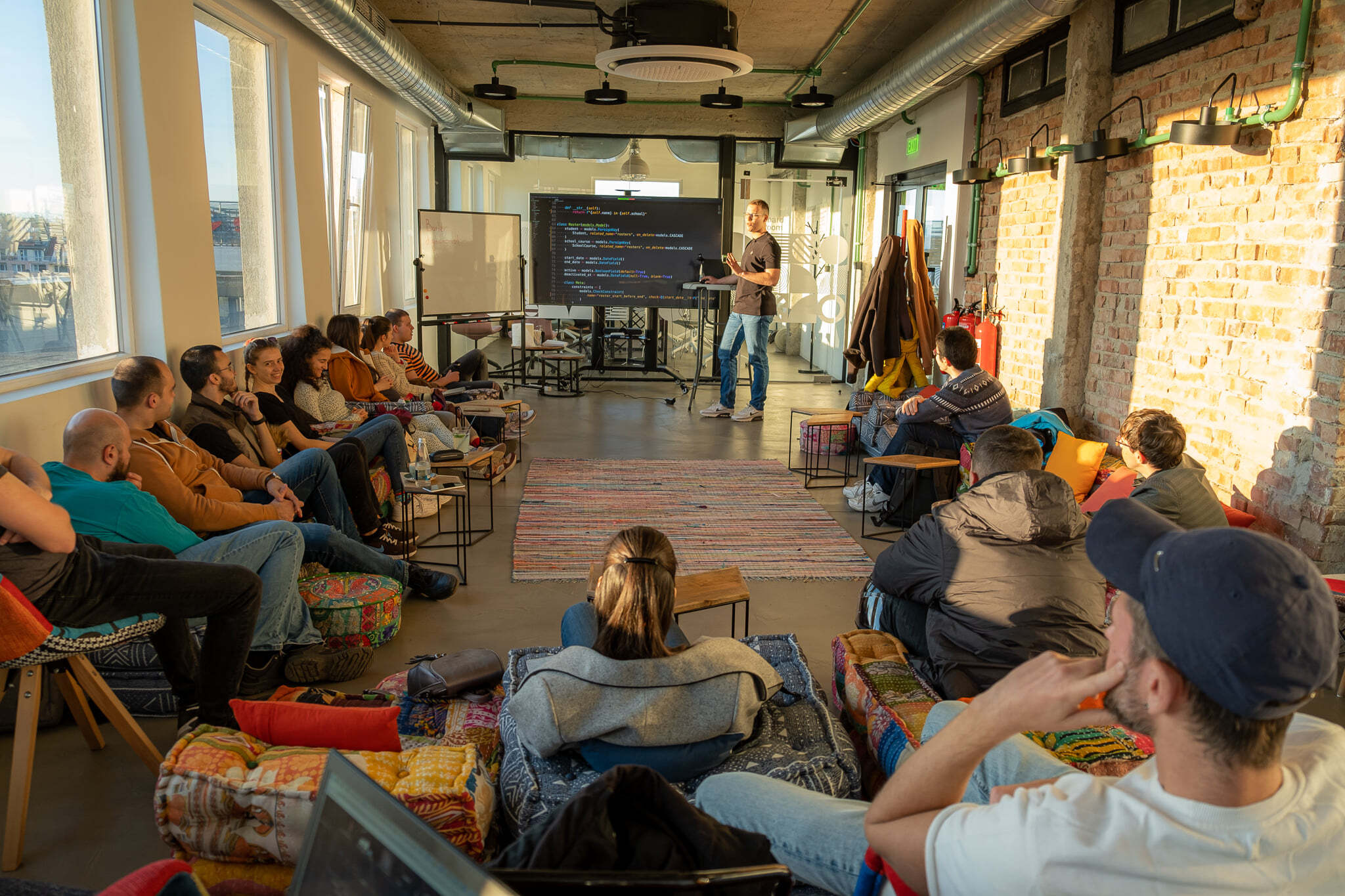 We continued being active with our blog, with 3 more articles:
April - a calm before the storm
Relative to the first quarter of 2022, April was a bit quieter. We were actively working on improving the internal structure of the company.
On top of that, we managed to write a neat technical blog post about Direct to S3 file upload with Django 🙌
May - HackSoft's team building and more
May was a big month for us!
We did our first proper team building.
We gathered in the beautiful city of Teteven and spent some quality time together  - sharing knowledge, playing games, having fun & relaxing.
During the team building, we set the future direction of the company, for the years to come.
Of course, this future direction is best expressed as emojis:
🏗️+🚢 - Build things & ship them.
🌱 - Grow, as company, as a team & as individuals.
🧀 - Mature as a company & internal structure.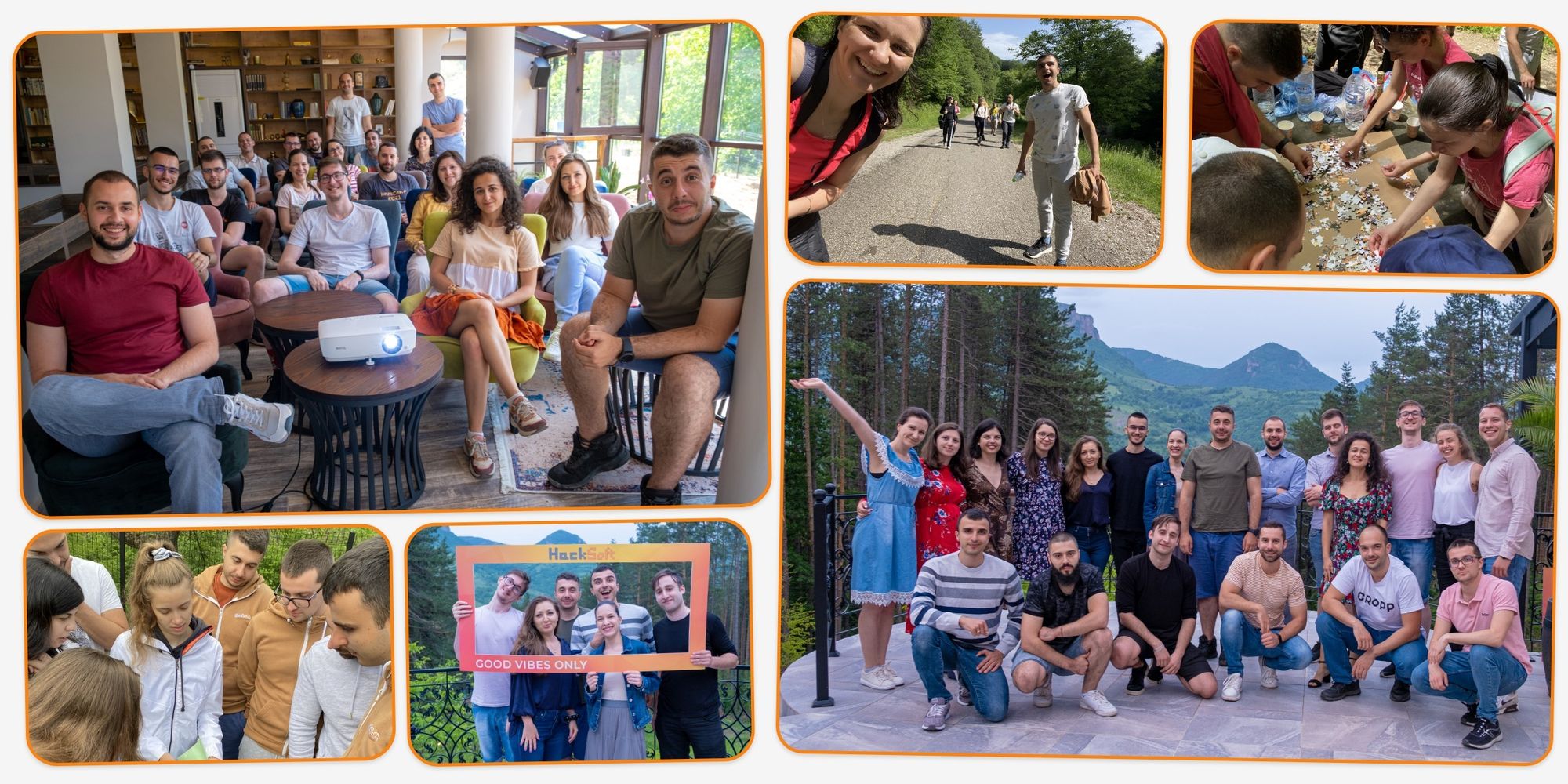 On top of that, more people joined our ranks & we continued being active with our blog:
On the other hand, we held and organized yet another Django Bulgaria Meetup - May edition.
The host was our CEO, Radoslav Georgiev. He talked about "Dealing with file uploads in Django".
Rado was quite busy this month, because he was also a guest on the Radiotochka 2 podcast, taking about "Developing leadership skills in tech people".
🫡 for May.
June - ongoing recruitment
In June, we parted ways with Tony ❤️
We are grateful for everything that she's done for us - from helping with the organization of courses, to organizing HackConf, to establishing the foundation of our brand.
With Tony leaving the company, we started recruiting for a new addition for the marketing team.
We also continued with the blog articles - we introduced our wonderful colleague Ruzha 🤗
During this month we organized the last Django Meetup before the summer vacation pause. Our colleague, Ivaylo Donchev, talked about Async Django.
Our CTO, Ivaylo Bachvarov, was a guest at DEV.bg's Job Board Talks podcast, talking about "First job in the IT industry". He shared some very interesting insights 'from the kitchen'. 👀
In June, HackSoft supported one of the team's favorite conferences as sponsors - Ratio.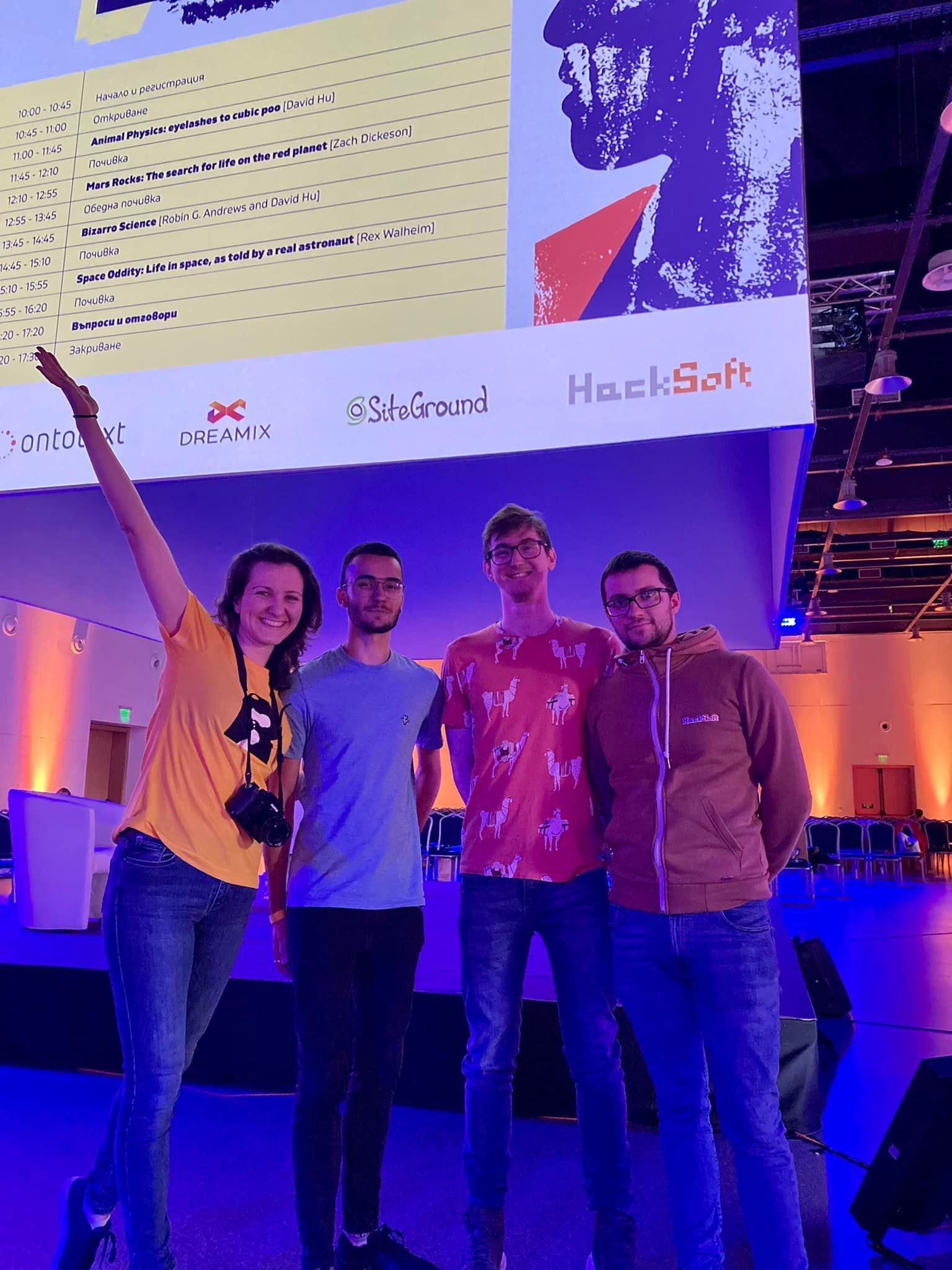 July - the team traveled a lot
July, being the central month of summer, gathered some of our colleagues towards the Bulgarian sea side ️☀️🌊
The team also attended EuroPython 2022 in Dublin, Ireland 🇮🇪.
A side note - If you are still wondering why we did our very first proper team building this year, it's because of conference going. We are travelling together since 2017 and going to a conference is one of the best team-building activities you can have 💪
Two of our colleagues even had talks during the conference:
Radoslav Georgiev, our CEO, talked about Leading and growing software teams.
Ivaylo Donchev, one of our tech team leads, had a talk on Async Django.
What's even better is that we did our very first company vlog (thanks Teddy 💪), that you can watch here:
HackSoft also continued to support conferences and other events. This time we were sponsors of three IT Tour events - RuseConf 2022, VarnaConf 2022 and BurgasConf 2022.
August - celebrating the people of HackSoft
The team continued to expand. More people joined HackSoft, along with two newborn babies - two of our wonderful ladies became mothers this year 👶
Our colleague, Daniel Goshev, had a talk for the first time at BurgasConf, during the month of August.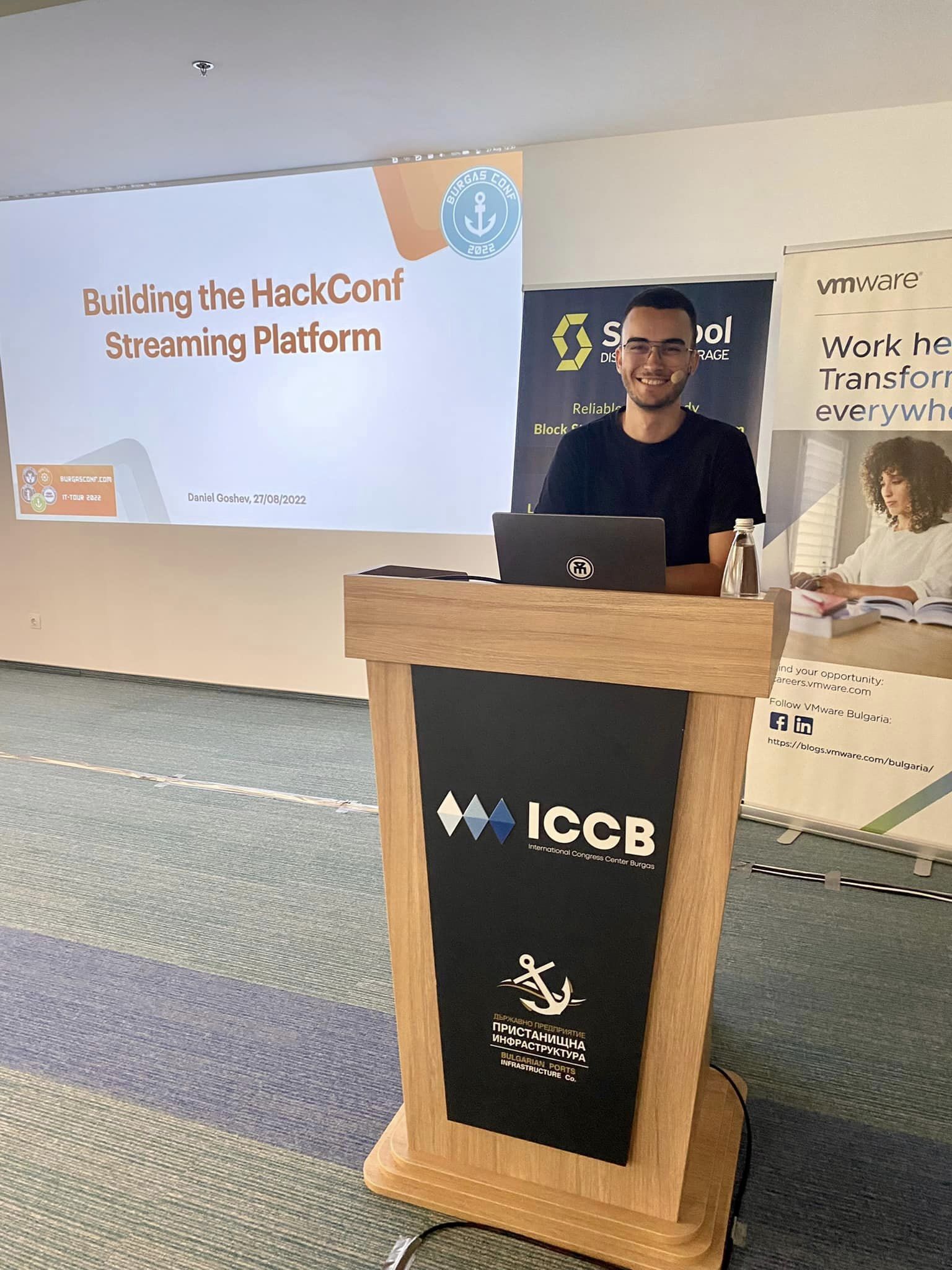 Another important event for the team was the wedding of our CEO Radoslav. We had an amazing time celebrating such a beautiful event together. 🎉 We explain how we surprise the colleagues who are getting married, in this blog article 👀
September - more people joined the team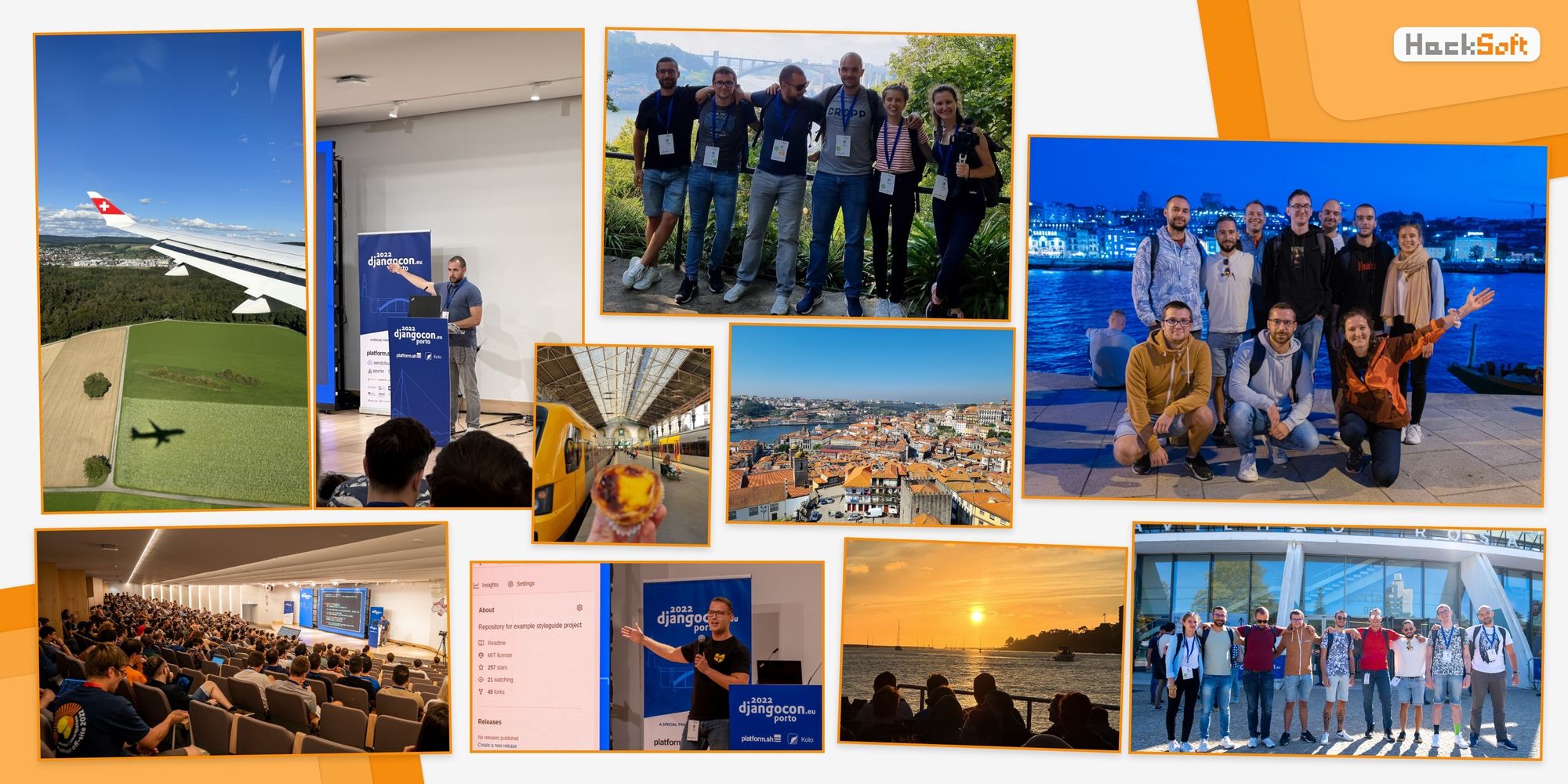 We finished our latest recruitment session, which resulted in more people joining HackSoft in September!
On top of that, another conference was on the horizon. This time - DjangoCon Europe, happening in Porto, Portugal 🇵🇹
Radoslav Georgiev, our CEO, did a talk about "Quality Assurance in Django - Testing what matters".
You can watch it here:
On top of that, we improved our vlogging game, sharing the vibes from this year's DjangoCon:
We resumed out blog activities with a brand new tech article - Django's JSONField incrementation with F expressions written by Vasil Slavov.
And last but not least, some of our colleagues took part in the Lion Heart's ultra cross triathlon 💪
October - our first booth at an event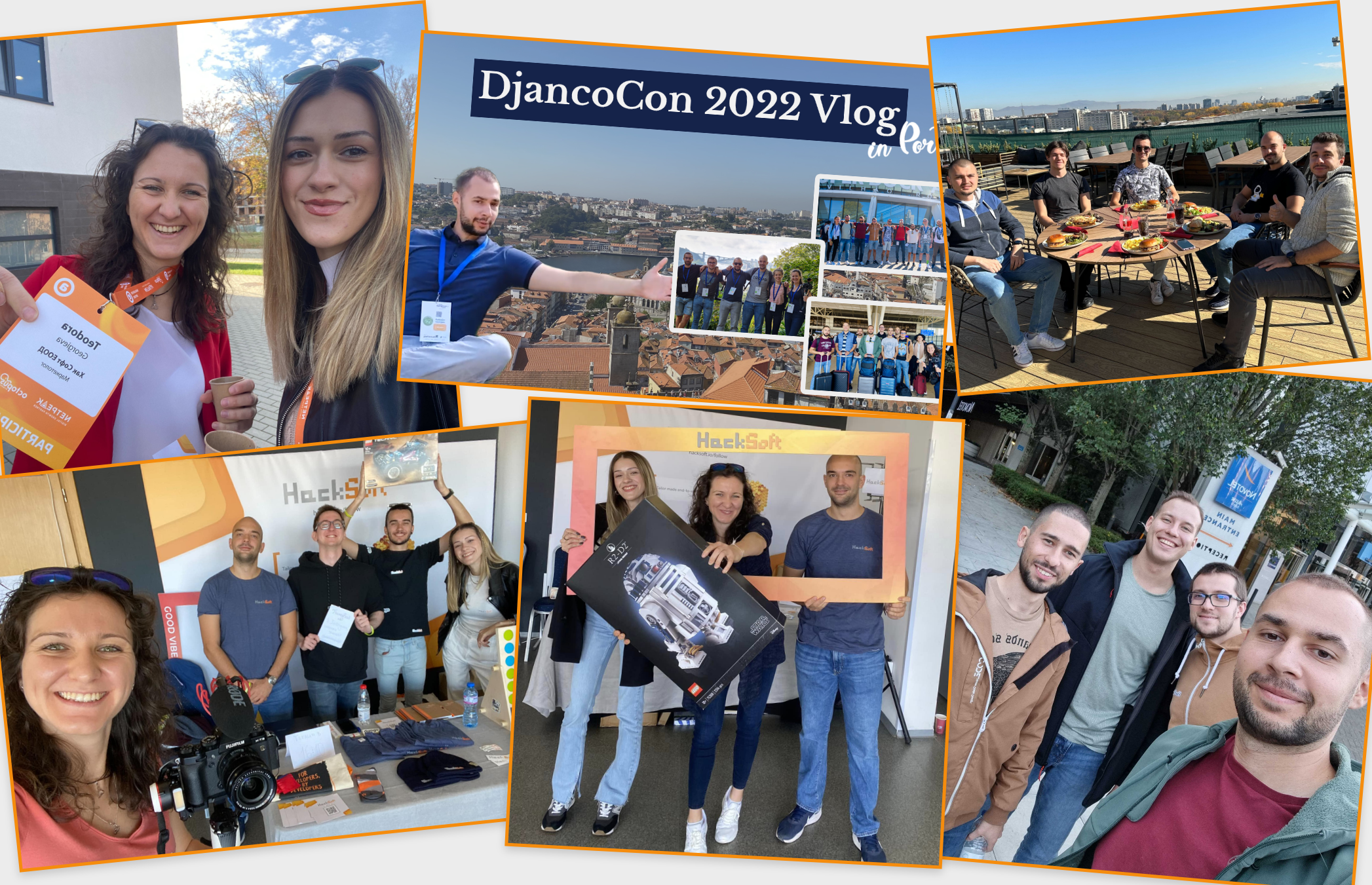 In October, HackSoft sponsored the OpenFest 2022 conference.
In turn, we were present at the event with our own booth! The team had a lot of fun meeting new people and sharing our story with them 🤩
And as if you might've expect by now, we did a kick-ass OpenFest vlog 👀
On top of that, The HackSoft instagram account was launched, where we share more of our life at the company 👀
One of our colleagues, Ventsislav Tashev, had a lecture at DEV.BG's Python meetup, on the topic Python: Embrace the linters – keeping your codebase consistent at all times.
At the end of the month, one of our teams traveled to London to meet with a client. And as you've might've guessed already by now, we have a proper London vlog 🙌
November - sharing knowledge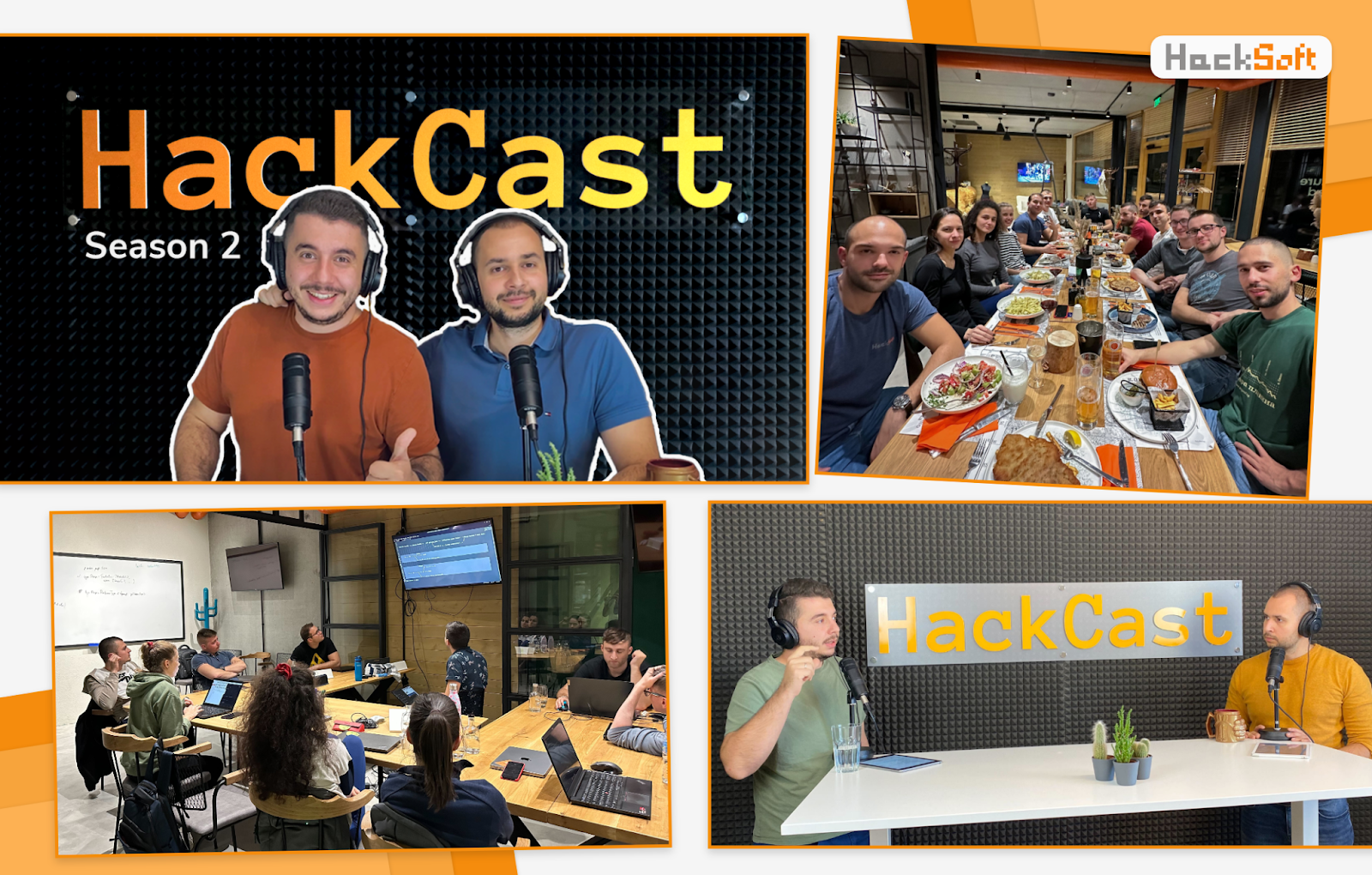 November started strong with the return of HackCast for a 2nd season 💪
HackCast is our official podcast, which we started back in 2018/2019 and took a long-enough pause (thanks, pandemic).
In November, we managed to record & render 2 episodes of the new season:
And of course, episode 2, following up with "More hiring":
It turned out that November is going to be a strong podcasting month - Rado and Ivaylo were also guests on Dev.bg's podcast and talked about Python.
On top of that, we piloted the idea for a "winter office".
Some of our team went for half a week, to Cota 1110, located at the foot of the beautiful Rila mountain.
The feedback? Well, we should do this more often!
And we have a short video to show you the vibes & the atmosphere, during the winter office:
December - reflecting on the year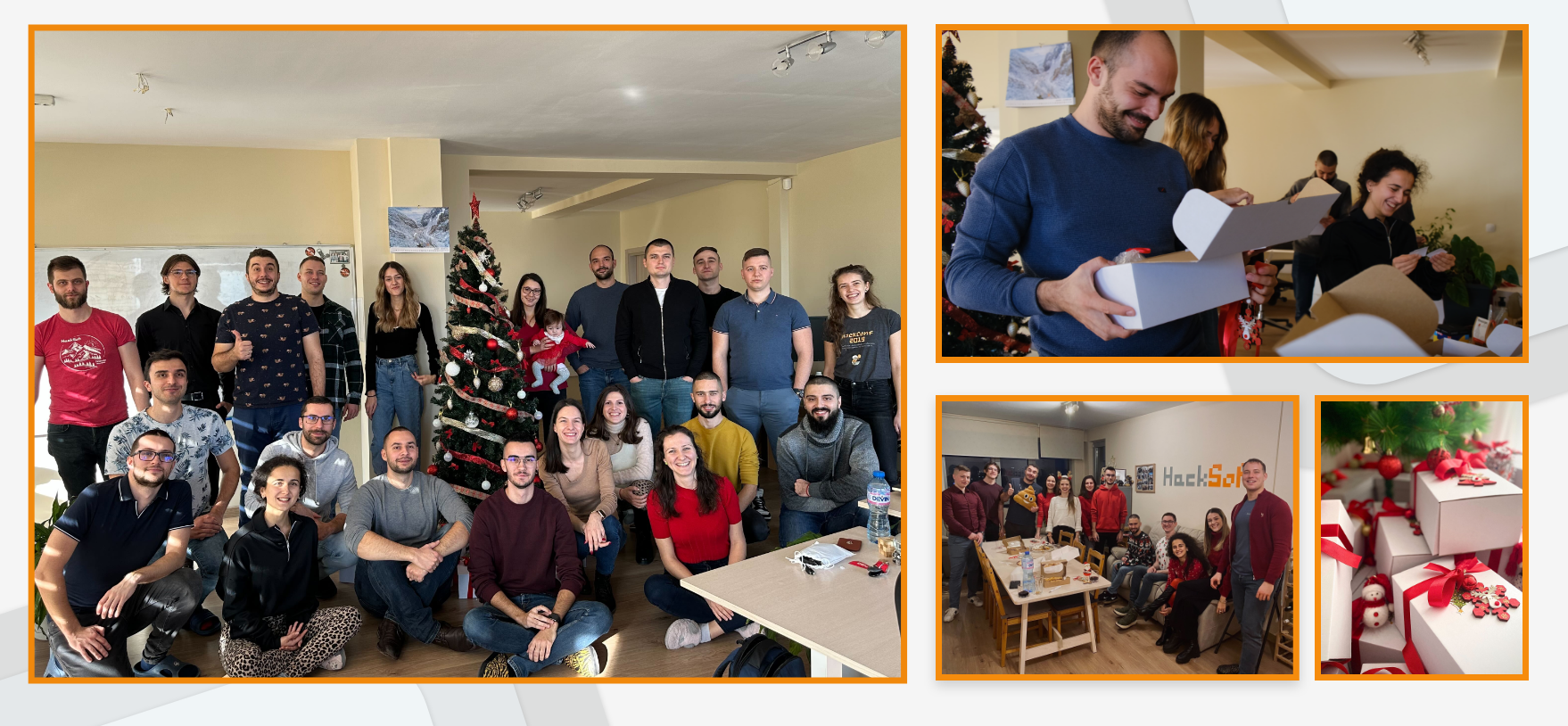 Here we are.
The HackSoft team got together and decorated the office 🎄
We also organized a small "HackBazaar" at the office, the collected means from which went to support a local cause 🤞
Last week, we had our annual Christmas party. 🎉 We spent an amazing night talking, playing games and giving gifts. The marketing team had prepared fun surprises for each team member and we all truly enjoyed our time together. 🤩
Looking back at 2022, we are grateful for everything that happened.
For us, it was an year of growth & year of maturing.
Now, it's time to get ready for the holidays and spend some time with our families and loved ones 🎅
And for 2023 - we'll come back even stronger. So watch us 👀