Meet our colleague, Ruzha Bobotanova!
Ruzha is a cheerful, ambitious, and hard-working colleague, and we are very excited to introduce her!
Here is her story.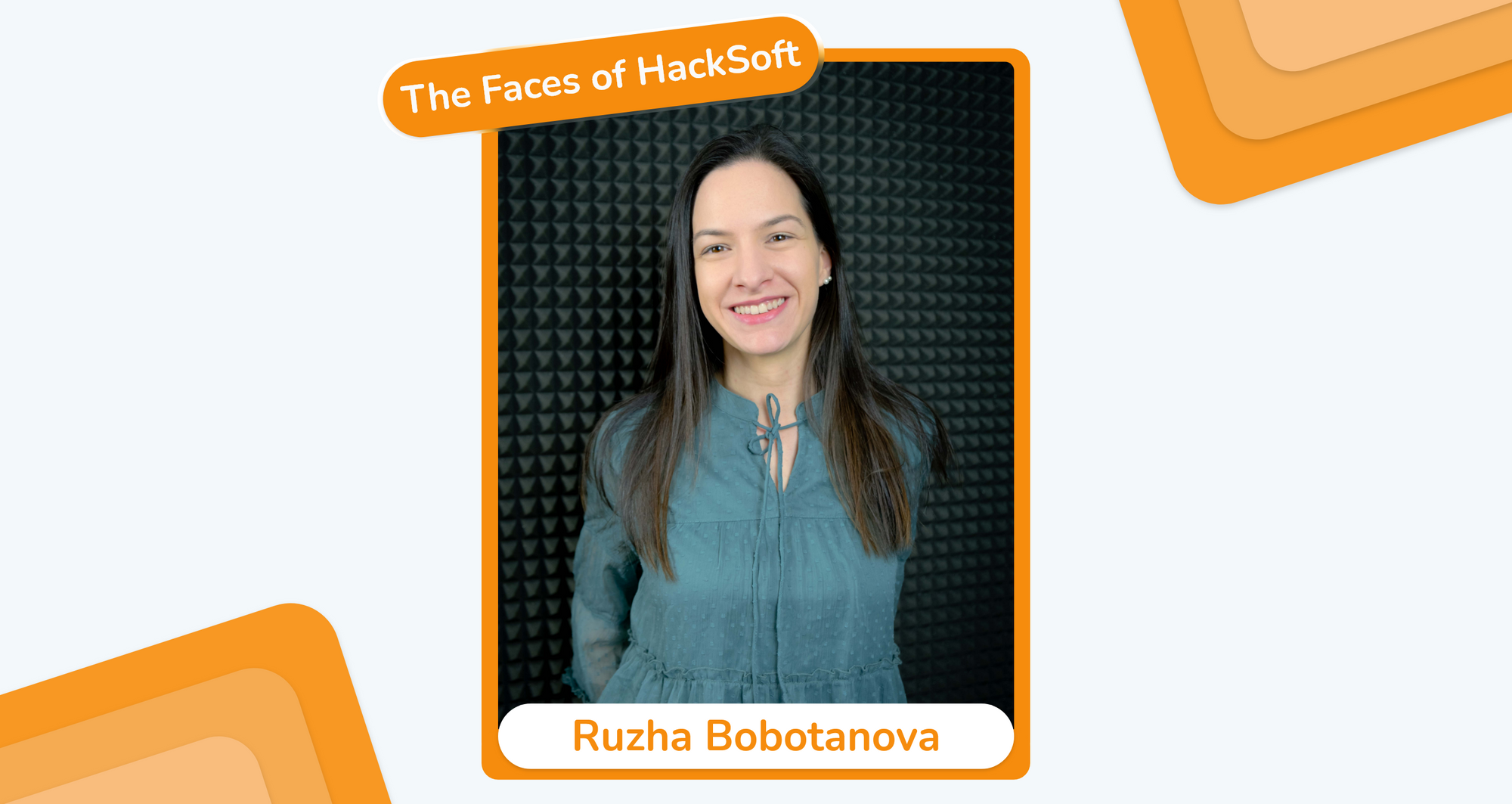 Can you tell us more about yourself?
My name is Ruzha and I am 27 years old. I have got a bachelor's degree in Software engineering and a master's degree in Technologies for knowledge and innovations.
What are you working on and for how long?
I've been working at HackSoft since the end of the summer, of 2021. Currently, I'm involved in my second project in the company.
We are making an overhaul of a legacy project, pushing for stability and migrating to more modern technologies.
Why are you at HackSoft?
I'm familiar with the company and most of the team since its founding. During the time I was studying at Sofia University, I was attending different courses in HackBulgaria. I have visited three courses - Programming 51 with Java, Programming 101 with Python, and Web development with Django. I met many people there who are now my colleagues.
When I decided to change my job, I chose HackSoft, because I knew that here I could learn various new skills and technologies. The company culture fits with my vision and goals so I believe that I'm the perfect addition to it.
What's your hobby?
In my free time, I like to do different things depending on the season.
Two years ago I learned skiing. This is one of the things that can make me wake up early to be one of the first on the ski tracks. The sound of unpacked snow and the feeling of the clear mountain air makes me so happy.
When the weather is warmer I like to be outside - in mountains, parks or near the sea.
During the whole year, I like to test new cooking recipes, read books, and since recently listen to audiobooks.
One day (or in another life :D) I imagine that I have a small confectionery founded with my sister where we are going to make homemade cakes and offer the best coffee.
Also, I have a passion for traditional Bulgarian dances which I practice weekly.
What drives you coming into work every day?
The satisfaction from the work done at the end of the day drives me forward.
The result of my persistence in developing software and the fact that customers use it every day motivates me to be better at my job.
What do you like most at HackSoft?
I have the opportunity to learn from colleagues with rich experience in the industry while working in a friendly team. Here, I find an environment to improve my strength and to fully show what I'm capable of.
What's the most important piece of advice you would like to pass to the junior developers?
🔸 To be sure that programming is their passion and they aren't doing it just because it's modern nowadays.
🔸 Don't start learning new things before you don't understand well the previous ones.
🔸 Don't skip the fundamentals knowledge to learn the most modern technologies.
🔸 Listen to your mentor and learn to be a good part of the team.
🔸 Practice makes perfect!

Your development partner beyond code.