Our team has continued to grow even in 2021. One of our team members who joined us a year ago is Pavel Iliev.
Even though he is one of our entirely remote team members, Pavel never seems that far away. Pavel is part of our software development team and always shows an ever-cheerful and helpful attitude.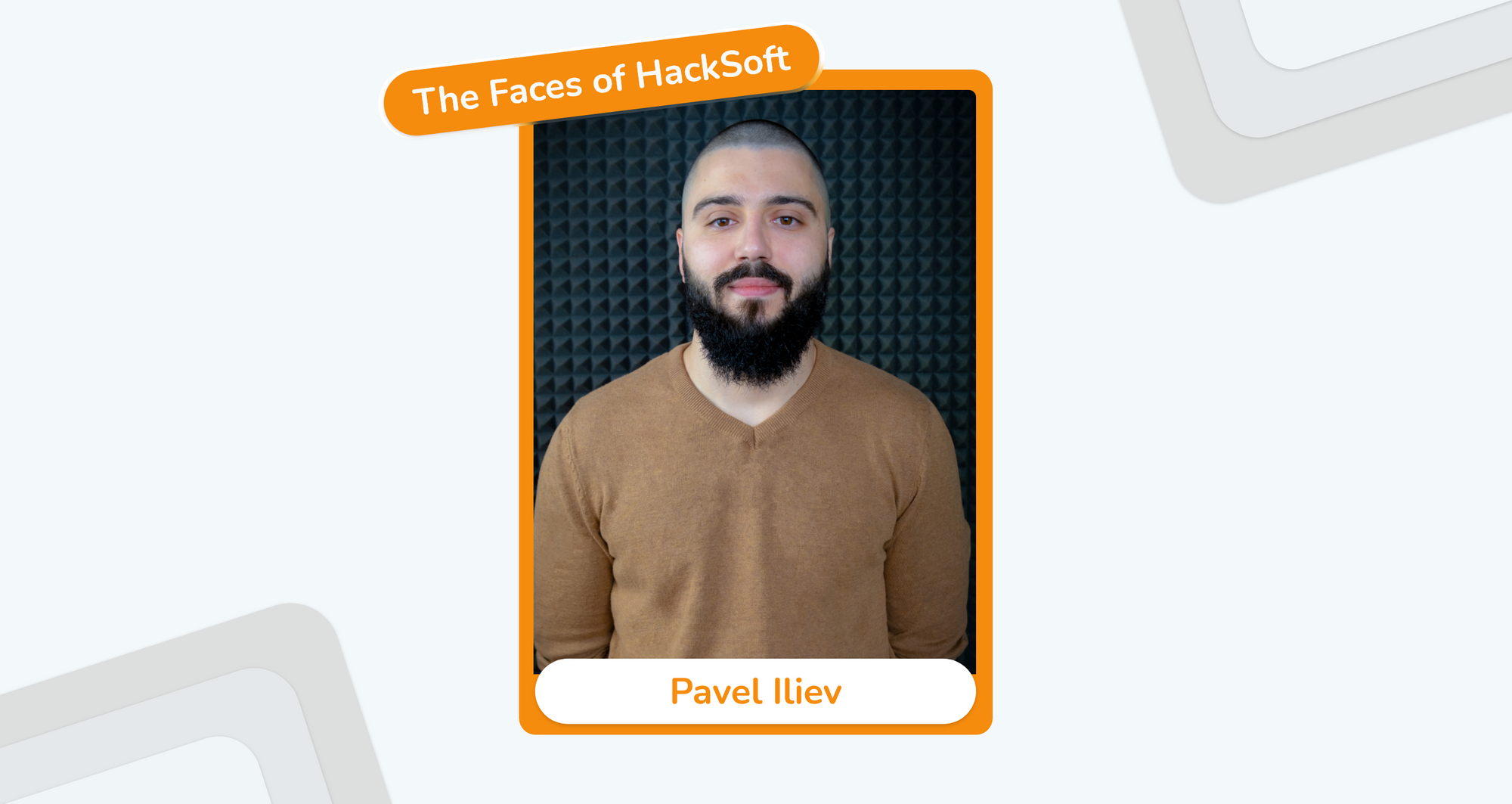 Learn more about him in the interview.
Can you tell us more about yourself?
My name is Pavel, I am from Sliven and currently 27 years old. Apart from being a programmer, I am also a toddler's father (yes, this is another full-time activity).
What are you working on and for how long? What languages have you been using?
For the past year and a couple of months, I have been part of a team, working on the backend service for a social startup in the healthcare industry.
Thus, I am using Python's Django, mainly to develop APIs (DRF in particular) and Swagger for API definitions and representation.
Why are you at HackSoft?
I came here for the knowledge and I stayed for the people.
High professionalism, caring,  knowledge growth, and sharing is what defines my colleagues. These guys are keepers. ❤️
There's no corporate 💩 and it rather feels like being part of another family.
What's your hobby?
I enjoy what I am already doing for a living, so there is no special activity I would call a hobby, but in my spare time I find myself playing video games and hanging out with friends.
What are your favorite technologies and why?
Django, because it's king 👑, the guys really eased the development of complex systems and the potential of the framework is vast.
NextJS, because it's modern, performance and developer experience focused.
What's the motto that motivates you?
There are many different and famous "mottos" that I like living by, but I will use the following quote because it resonates with my strive for positive thinking and mentality in tough moments.
"Do not be afraid of your difficulties. Do not wish you could be in other circumstances than you are. For when you have made the best of an adversity, it becomes the stepping stone to a splendid opportunity."
What don't your colleagues know about you?
I am also interested in eCommerce and marketing.
What's your favorite tool you use daily?
I will give this one to my VS code. Lightweight yet extensible, simple yet customizable, decent integrations with almost any technology and it is a powerful collection of otherwise separate developer tools.
What do you like most about your daily tasks?
Even though coding is an everyday activity, things hardly get monotonous since new issues/features require new solutions, with different approaches and/or ways of thinking. Plus there's always something new to learn or get better at.