What makes a company great? Its people! In our blog post series "The Faces of HackSoft," we go behind the scene and invite the people of HackSoft to share their stories.
On the spotlight is our colleague and friend - Kamen Hristov! He joined our team a year ago and he has been an invaluable part of our software development team since then. We are grateful to have him on board!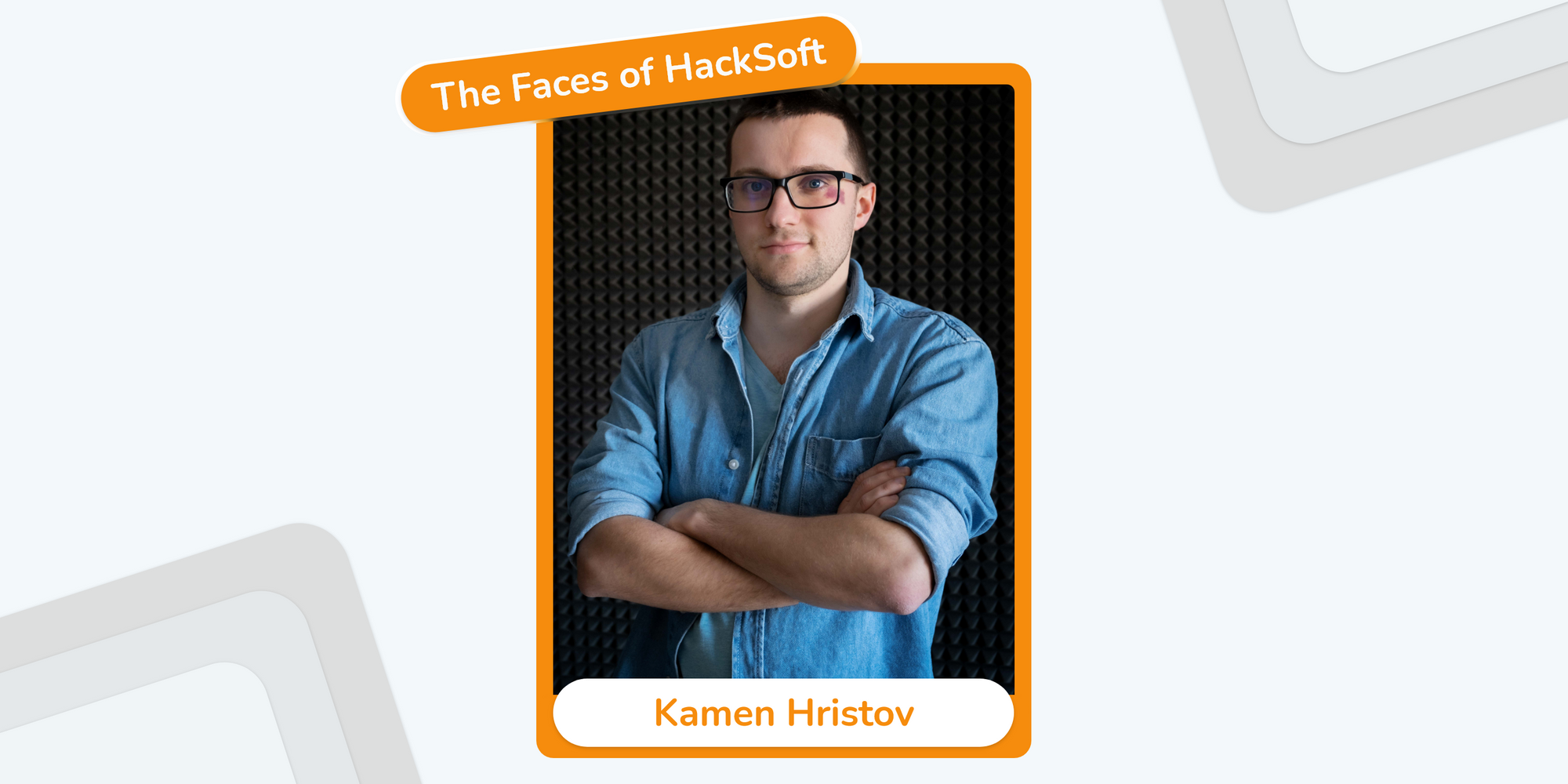 Can you tell us more about yourself?
Hey, I'm Kamen, my friends usually call me Kamba. I've been part of Hacksoft for almost a year and a half now. For most of my time in the company, I was part of a project, which was about providing services like streaming and VOD to yoga & fitness instructors. Currently, with a small team, we've been developing accounting integrations for OfficeRnD. I mostly consider myself a backend developer, although recently, I have been getting a lot more involved in frontend development.
Why are you at HackSoft?
My first encounter with Hacksoft was during my training in the HackBulgaria course, where I met some people from the team. Throughout the course, I had the opportunity to work under their guidance and realized what great people and incredible professionals they are. Those were the reasons that brought me to the company shortly after I finished the course.
What are your hobbies?
In my spare time, I love being outdoors. Travelling has also been a big part of my life. I find visiting new places very recharging. I love playing the drums, I generally like music (currently trying to learn to play the guitar). One of my favourite pastimes, though, is go-karting, I just can't live without it!
What are your favorite technologies?
Django would definitely come first! It might have some caveats, but it's just so easy to work with and it gives you pretty much everything out of the box. React comes second without much competition. JSX is a work of genius and makes code so much fun to write. Third place goes to git. It's just a MUST - one of the tools we all probably 'take for granted' forgetting how significant it is.
What don't your colleagues know about you?
For some reason, I find great joy in assembling furniture. Bed frames, tables, desks, shelving units, you name it! I like building things: from software to mostly anything.
Name three HackSoft values that fit your personality?
🔶 Freedom and responsibility - In Hacksoft you're not being 'monitored', you're being mentored to become a better version of yourself. Nobody needs to 'keep an eye' on you if you're doing your job or not because people here feel motivated and personally responsible for their work. When you really care about something, you make sure you do your best to make it happen.
🔶 Mutual respect - Doesn't matter if you're a Junior, a Senior, or the CTO. We respect each other and value the point of view of every team member. Each person is unique and can see things that others can't.
🔶 Growth mindset - This is so important to the team that we actually have a thing called 'Day ON'. You can pick a day and instead of working on the project you're currently assigned to, you can spend it learning something new. Wanna try out that new cool JS framework that has just come out? You're free to do so. To be a great software developer one must never stop learning.
What do you like most about our company culture?
The thing that really made a strong impression on me was the overall drive for communication in the company. You're working on something that's too hard? Ask someone for help. You have second thoughts about a feature you're developing? Talk to your team lead and suggest a better approach. You've got problems at home? Ask to take a day off to sort things out.
Knowing that you can share your ideas and troubles and always be heard really leads to great relationships and a highly productive team. Most problems in companies (and generally in life) come from miscommunication. In Hacksoft there's no such word.
What is the motto that motivates you?
'Fear is the mind-killer. Fear is the little-death that brings total obliteration. I will face my fear. I will permit it to pass over me and through me.'
- Frank Herbert, Dune.