It's time to introduce you to one of our full-stack software developers - Krasimira. She is focused and responsible at work, cooperative with colleagues, and cheerful with friends.  Being a Python and JavaScript developer, she is strongly motivated to master team leadership and lead her team one day.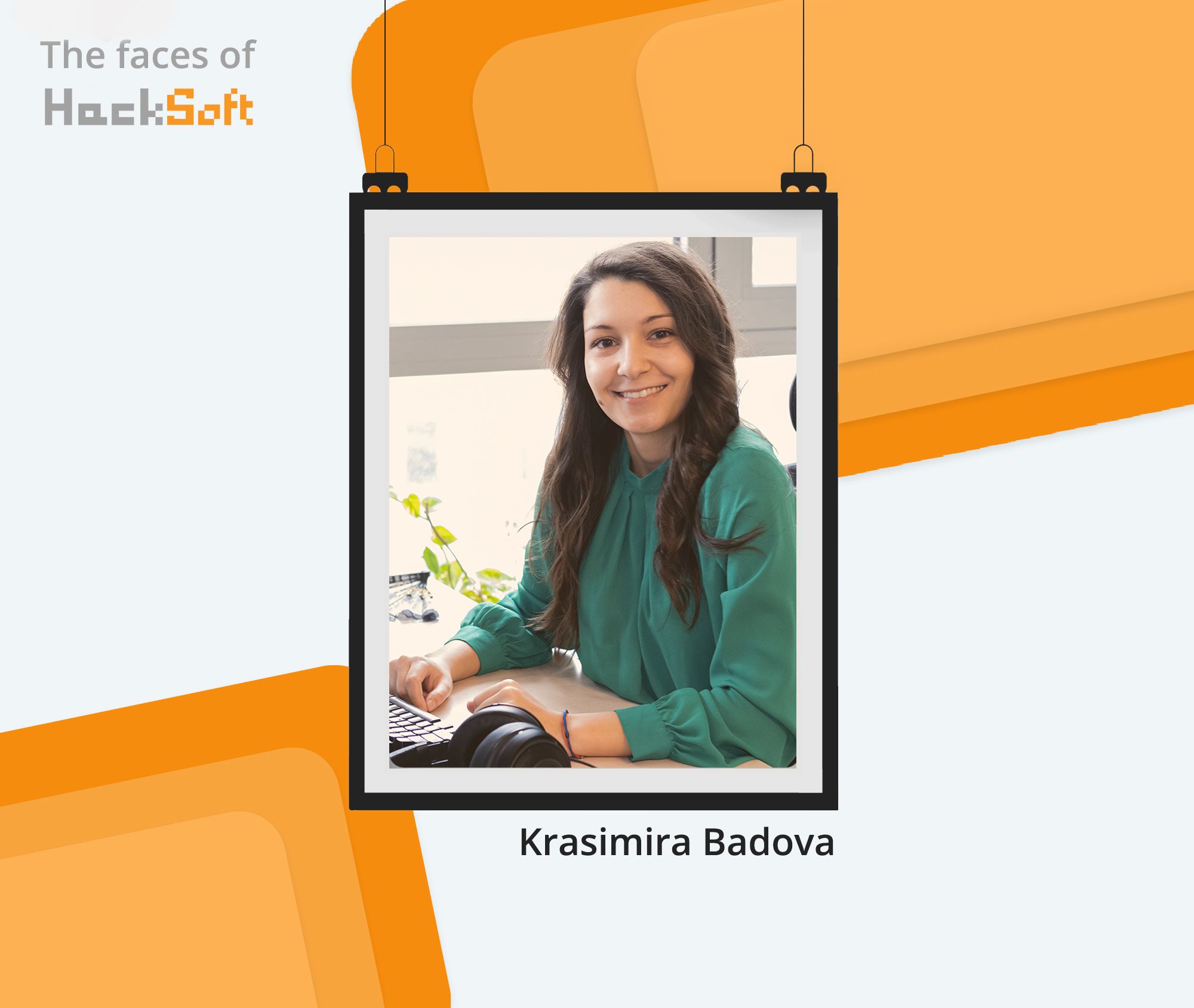 Can you tell us more about yourself?
Friends call me Krasi (or Tom). I am 25, and I am about to get a master's degree in informatics! Hopefully! In my spare time, I do yoga, play puzzles, or just tidy up. Of course, one cannot live without any activity, so I often go cycling or practice traditional Bulgarian dances. Last but not least, I am an anthophile and I adore being around flowers.
Speaking about work, I started working at HackSoft 4 years ago. Growing to a full-stack developer, I can say that this was one of the greatest decisions in my life.  HackSoft has given me the opportunity to learn from my mistakes and pitfalls, to grow every day, and to improve myself in any possible direction.
In the process, I have met 18 real friends, ready to respond at any time. Last but not least, HackSoft has made me love my job, love my colleagues, and love meeting new challenges.
What don't your colleagues know about you?
That's a difficult one, we know ourselves very well.  Maybe they do not know that I fell over with a motorcycle when I was 12.
Trello -  I even record my thoughts there.
Can you tell us what difficulties you faced at HackSoft from the very beginning until now?
The first thing that comes to my mind is communication - communication with clients and communication within the dev team. It is a delicate matter one should be careful with. Other difficulties I have run to are self-discipline and time management.
What are your favorite technologies and why?
Django & React - these are my favorites! Django - because it makes building web applications a lot easier and quicker. React - because it is easy to use and easy to learn.
What's the most important piece of advice you would like to pass to the developers who want to learn new technology?
Be persistent, get to know everything you do not understand, and do not give up.
What's the motto that motivates you?
"Get shit done!"