It's time to introduce one of our full-stack software developers - Krasimira. She is focused and responsible at work, cooperative with colleagues, and cheerful with friends. Along with being a senior Python and JavaScript developer, she is technically leading some of the current HackSoft's projects.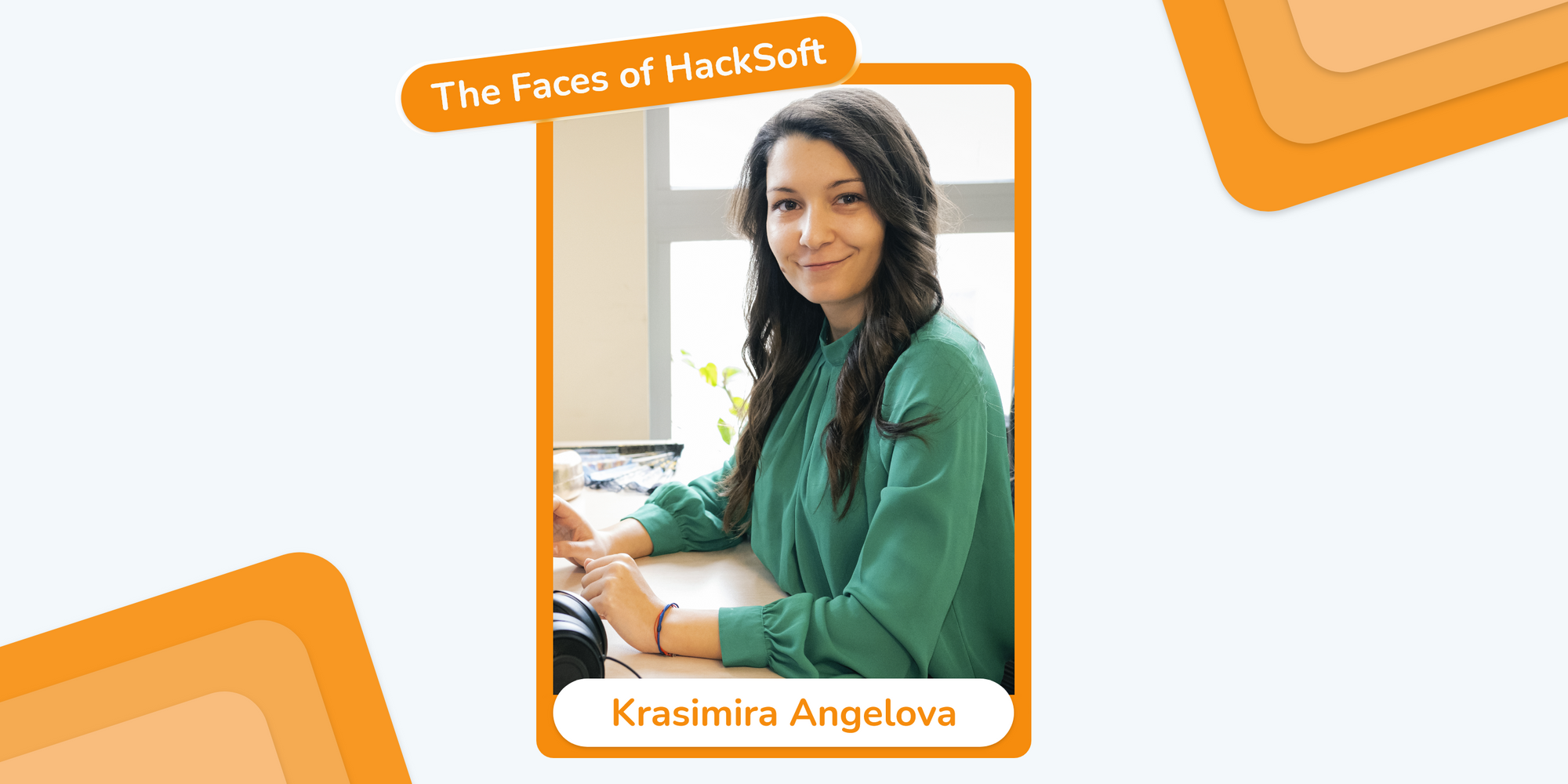 Can you tell us more about yourself?
Friends call me Krasi. I am 27, and I've recently got a master's degree in informatics! A huge win! I recently got married as well, another big win! (Laughing...)
In my spare time, I do yoga, I hang out with friends, or just tidy up. Of course, one cannot live without any activity, so I often go cycling or practice traditional Bulgarian dances. I am also an anthophile - I adore being around flowers and taking care of them.
Speaking about work, I started working at HackSoft 6 years ago. Growing to a full-stack developer and а team lead, I can say that this was one of the greatest decisions in my life. HackSoft has given me the opportunity to learn from my mistakes and pitfalls, to grow every day, and to improve myself in any possible direction.
In the process, I have met many real friends, ready to respond at any time. Last but not least, HackSoft has made me love my job, love my colleagues, and love meeting new challenges.
Can you tell us what difficulties you faced at HackSoft from the very beginning until now?
The first thing that comes to my mind is communication - communication with clients and communication within the dev team. It is a delicate matter one should be careful with. Other difficulties I have run into are self-discipline and time management.
What is your daily routine as a software developer?
The first thing that I do when sitting in front of my computer is checking my emails. Sometimes there are surprising "news" there, so one should not miss them!
Then I check my calendar. I make a plan in my head when I have meetings and when I have some "spare time" to do some other work.
The next thing is checking my todo list, so that I can see what are the must does for today.
Lastly, I check what is the state of the project I am currently working on/ leading - I check communication channels, upcoming tasks, I check whether someone is blocked by me or whether someone needs my review, I check what are the stuff that definitely need my attention and I check whether I should do some organizational work around the project.
Having done all of this, I finally make a real plan in my head what should be done today, add these as tasks in my todo list, and start completing them one by one.  
What do you like most about your daily tasks?
Completing them! No matter if the tasks are easy or tough, completing them is such a relief!
What helped you become a better software developer?
Asking questions.
When being at school or university, asking questions is a rare thing. My opinion is that students often fear to ask questions if they do not understand something. Maybe it is a fear, or shame, or ... you name it. The point is that there is always something you do not get entirely and you just live with it.
In the last 6 years being at HackSoft, I've taught myself to ask any question I have. It was difficult in the beginning, no doubt. "How come I am the only one that doesn't get that??? Am I stupid? Is my brain slow??" - said the "fear" and "shame" in me.
But once you realize that you cannot continue to learn new stuff without having these questions answered, the game changes. Sometimes it is much better if someone more experienced than you explains you something with a few words, instead of you spending time searching the internet with no results.
In HackSoft there is always someone that will answer your questions. And in the end - you will be happy that "You've finally got this!" and the other person will be happy that they have helped you.
Name three HackSoft values that fit your personality?
Can you share your thoughts on what should every team be like?
The perfect team in my head looks like this:
every team member is satisfied from their daily work
every team member is growing in one direction or another
the work is done on time
the clients are happy
For me, if you have all of these completed in your team, then you have the perfect team!
What don't your colleagues know about you?
That's a difficult one, we know ourselves very well.  Maybe they do not know that I fell over with a motorcycle when I was 12.
Trello -  as a task management system
TodoIst - as a todo list
What are your favorite technologies and why?
Django & React - these are my favorites! Django - because it makes building web applications a lot easier and quicker. React - because it is easy to use and easy to learn.
What's the most important piece of advice you would like to pass to the developers who want to learn new technology?
Be persistent, get to know everything you do not understand, ask questions and do not give up.
What's the motto that motivates you?