What makes a company great? Its people! In our blog post series "The Faces of HackSoft," we go behind the scene and invite the people of HackSoft to share their stories.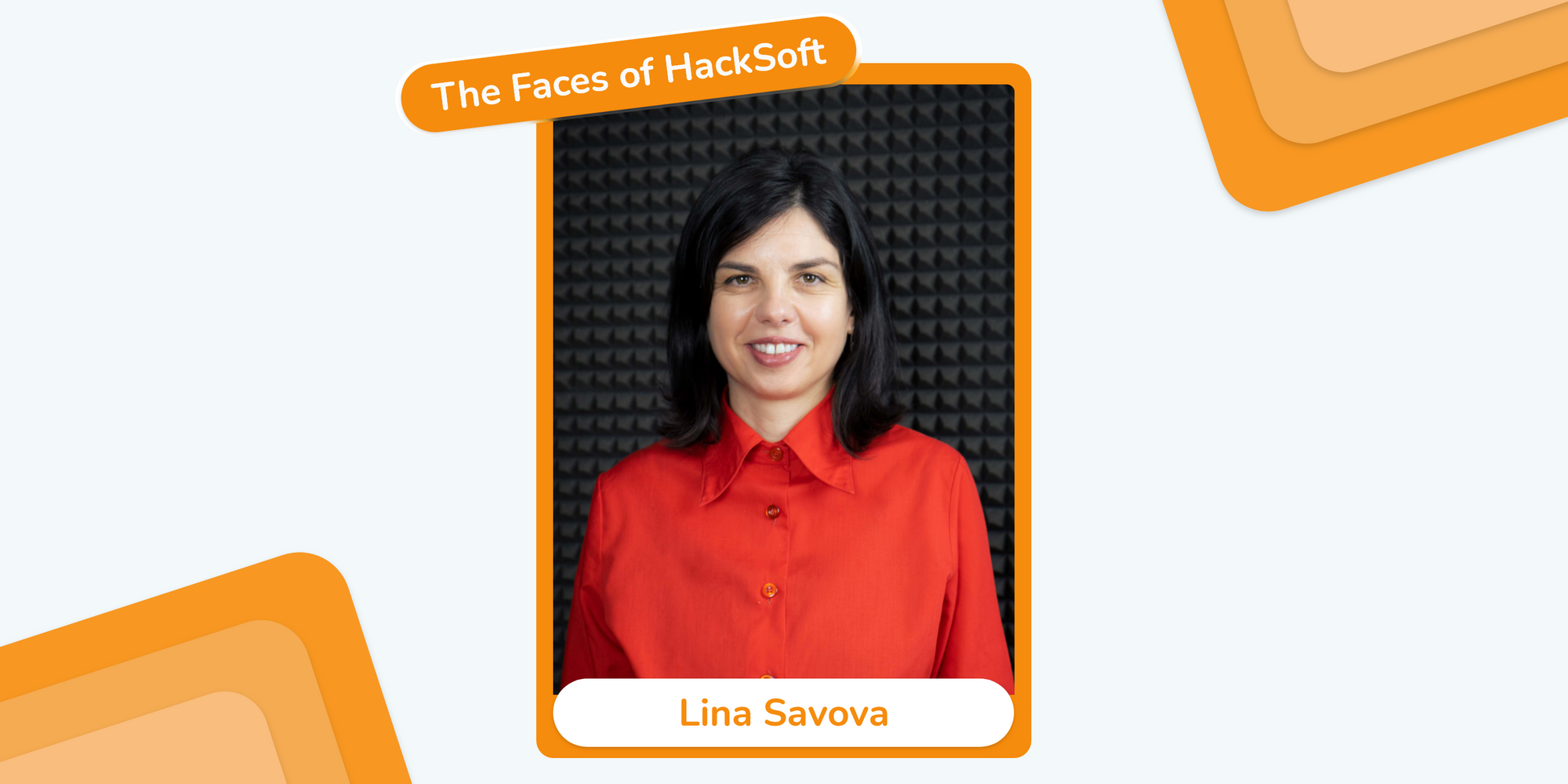 It's time to introduce you to Lina Savova, one of our Automation QA Engineers. She's an amazing woman with an impressive thurst to challenge herself and learn something new every day. That's how her enthusiasm and interest brought her to join the HackSoft team a year ago.
Get some inspiration from Lina's story:
Can you tell us more about yourself?
I am Lina. I've been involved in the IT industry for the past 3 years. I have fallen in love with testing during IT courses and I was definitive this is the main thing I want to work on from now on. I started with manual testing, then found the magic of automation – you know, the moment when you write some code and run it and see how it just works in front of your eyes. This is a divine moment.
What are you working on and for how long? What languages have you been using?
I joined the Hack family in March 2021 as an Automation QA. Since then it was an everyday challenge because I was in different projects and needed to change strategies and learn new things all the time. I was impressed with how committed and supportive the team is and how smoothly the work is going.
Currently, I'm on a project related to e-health with a strong emphasis on communication. I find it a valuable one. I am still challenging myself to learn new things, especially about backend tests.
Why are you at HackSoft?
It is a great opportunity for me to work with such great professionals and good people. I find HackSoft a great place to learn a lot of things, and to learn them the right way. Besides, I really like the company's culture, and share the company's vision and values.
What are your hobbies?
My hobbies are reading books, as well as taking long walks, and traveling with my family. I like learning new things, seeing new places, and having new experiences, and really feeling alive thus.
What are your favorite technologies?
Playwright (with Python) – I use it for writing E2E tests. I like it because it offers time-saving auto wait for elements, cross-browser web automation, headless and headful mode to run the tests, supports CI. It's easy to learn how to use it and is very intuitive.
Django – because of its simplicity, tidiness, and logic, and its power at the same time.
What's the motto that motivates you?
"Do what is right, come what may."
What don't your colleagues know about you?
Before I started working in the IT area, I have worked in the field of communications, in particular Public Relations. So, I really know how important communication, honesty, and hard work are.
How do you level up your skills every day?
I try to read documentation every day and watch some videos related to the technologies I work with.
Apart from all of the above, the most important and helpful thing here is my colleagues. They help me a lot to develop my software skills.
What drives you to come to work every day?
The eagerness to learn and to develop myself.