While studying computer science at Sofia University, Antonia meets the founders of HackSoft. Their first meeting is at the student hackathon HackFMI. A few hackathons later, Antonia joins Rado and Ivo in the journey of HackBulgaria programming school and after that in the newborn HackSoft company.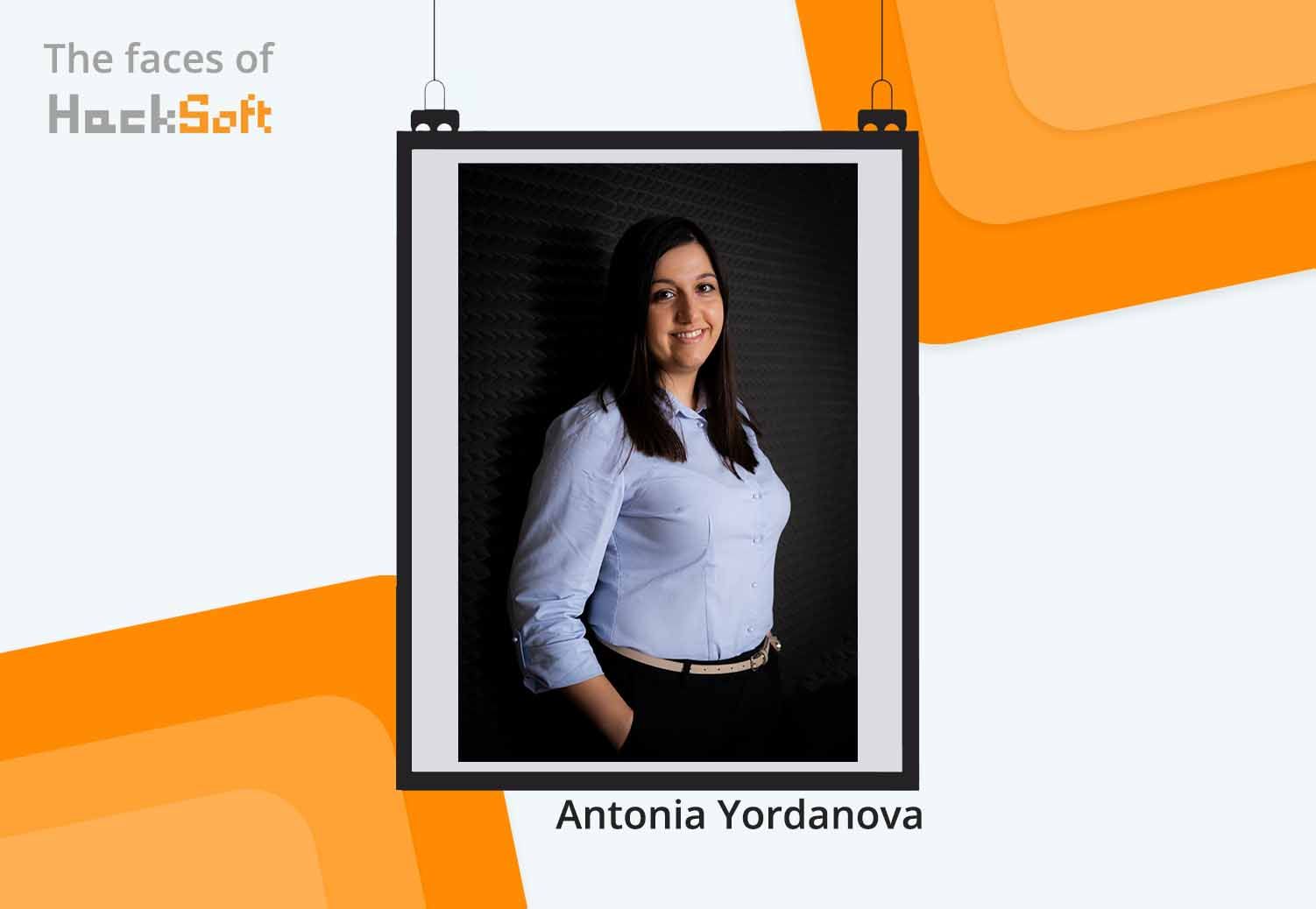 Today, Tony is a Marketing specialist at HackSoft with lots of events and organized courses behind her back. She is passionate about her work, and she's constantly developing and improving her skills.
Can you tell us more about yourself?
I am Antonia, a brand marketing specialist and event coordinator, operating on the brands of the Hack family – HackSoft, HackBulgaria, and HackConf.
I joined the Hack family in June 2014. Since then, it's been an amazing experience. I've fallen in love with how engaged and committed the team is. You can probably see this level of engagement only in gaming. And this was (and still is) an excellent sign!
What have you been working on and for how long?
As every marketer, I try to help the brand excite the world about all the things we do. I participate in the process of crafting a comprehensive plan for delivering our message and engaging with the audience.
The nuts and bolts of our goal are to make valuable interactions through our various channels.
Besides this, my teammate  Teodora and I have invested a considerable part of our time and energy in the organization of the software development conference HackConf.
HackConf has 5 editions during the period 2015-2021. If you're curious to learn more, check out the latest videos on YouTube.
Why are you at HackSoft?
I think it's crucial to know where you are and what change you want to deliver with your work. I've been in the company for 7 years because working on its mission fulfills my perception of the world.
What is your hobby?
I don't have a specific hobby, not one at a time. I am passionate about the tech ecosystem, meaningful startups, and the people behind them. I love TED Talks and the Hidden Brain NPR's podcast show. Also, I am curious about people's stories and the universe.
What do you like most about our company culture?
The company culture is a complex set of values, habits, and beliefs of everyone in the team. I like that every one of us is welcomed and supported in the career path they choose. It's easy to bond with different people.
When you have a compelling workplace, helpful colleagues, and the ability to learn and explore, I think you have everything needed to thrive in all possible ways.
I have a few favorite browser plugins, which make my life easier.
Zest - helps me to easily find new articles on the topic I search.
Buffer - for scheduling posts across social media.
Boomerang - from time to time I forget to come back to an email and this tool helps me a lot, boomeranging the important information.
What your colleagues don't know about you?
Probably, that I've volunteered in 12-13 organizations, still love to volunteer when I have some spare time.
What is the motto that motivates you?
I don't have such slogans on my list, but I'd like to share with you this quote by Ursula K Le Guin: "It is good to have an end to journey towards; but it is the journey that matters, in the end."