Two years ago, we put out a call for a marketer to join our team. Happily, Teodora found us, and since then, she is an indispensable part of the team.
She is hard-working, persistent in achieving her goals, and always cheerful! We're excited to meet you with her because she has a story to share with you.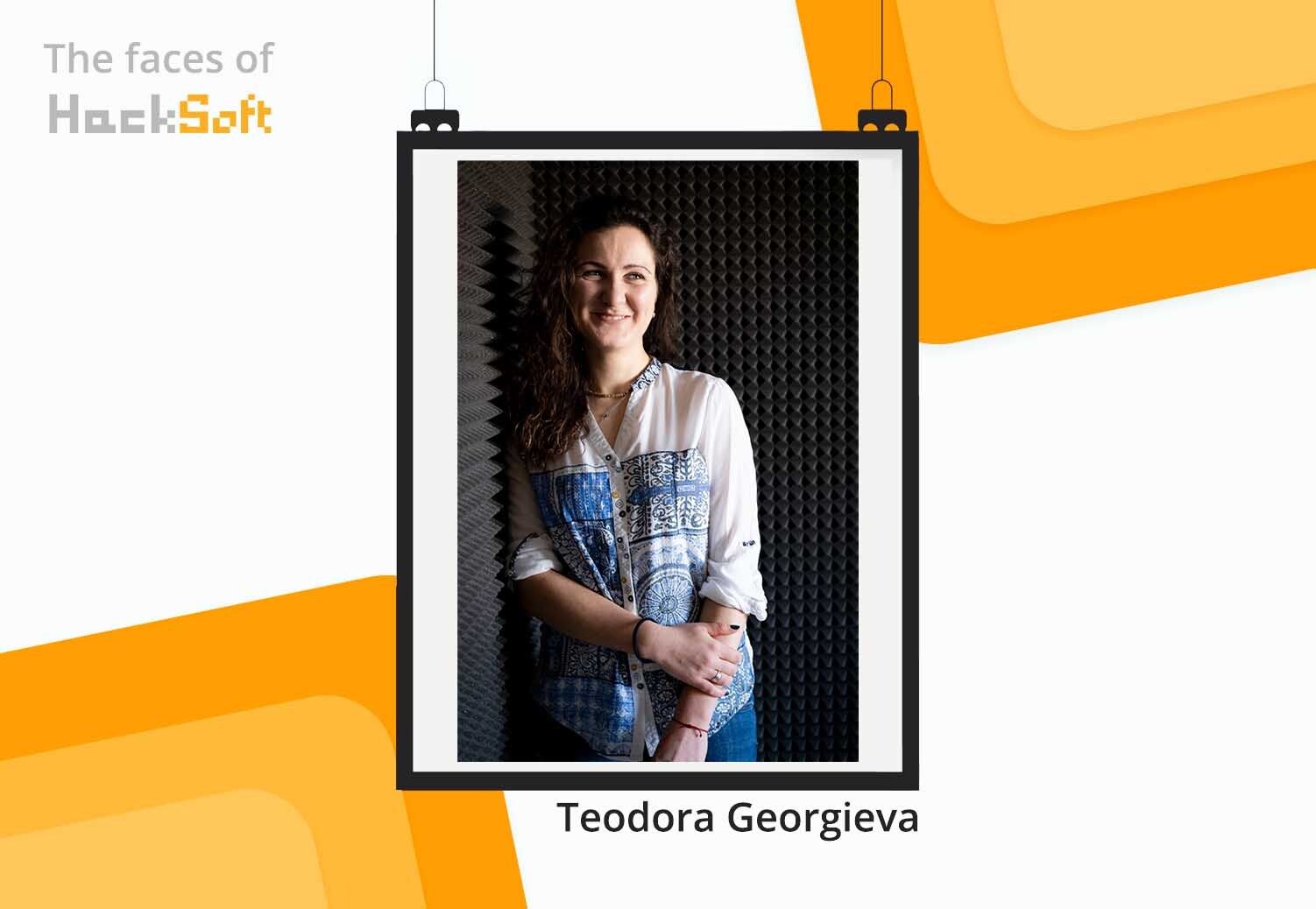 Can you tell us more about yourself?
If you're reading this, you're probably curious to read what I am going to say about me; rather you're curious to see who I am.
Nice to meet you, my name is Teodora, but my friends call me Tedka. I am in the Marketing team at HackSoft. I and Tony lead the marketing and design of HackSoft and HackBulgaria and the event organization of HackConf.

My story with the Hack team started 2 years ago, while I was doing my internship abroad. Suddenly I heard this interview with Radoslav Georgiev (the CEO of HackSoft) in the Superhuman podcast with Georgi Nenov. I applied for the position, passed the interview, and later got accepted into the team. I feel it like another family of mine.
In the beginning, I started working because of the job and my interest in the marketing, design, and event organization field. Later on, I am here not only because of my love of the work itself but also because of the people. Everyone's vision and values are very similar, and they are all focused on self-development, growth, and contribution. And of course, the love and passion in our job keep us all united with eagerness to succeed.
What is your hobby?
I am still in search of my "Ikigai," but I feel I am on the right path. My hobby is my job. I love creating stuff and being a graphic designer at work gives me that opportunity. I love communication with people which I practice actively with HackConf's organization. Marketing helps me stay informed, creative, analytical and gives me a chance to see further.
The other hobbies of mine are running, photography, traveling (no matter where), doing yoga, riding moto, and practicing all sports like dancing, cycling, joining tae-bo classes. Currently, I have got a passion for wakeboarding.
What is the motto that motivates you?
I don't have one motto. There are a few, but very important to me: "C'est la vie." and "Just do it." Both express me well, but since I lived in NI, I got a third motto "Simplicity" that reminds me to make my life as simple as possible.
Can you tell more about the difficulties you faced at HackSoft from the very beginning until now?
I've had challenges with work itself. I've never worked that much as a marketer, designer, and organizer before, and as always - the beginning is hard. Focus, hard work and love for my job helped me a lot to get better. A year later, I am so grateful to Tony and the team who allowed me to be part of HackSoft and who believed in me.
Name three HackSoft values that fit your personality?
I can't. They're all values of mine and I try to develop each one.
Can you share anything interesting about your team you're proud of?
Everyone supports each other and helps not only at work but with everything else beyond it. That's impressive to me when I've been in several other places, and I can say I've seen the opposite.
Can you recommend a few books you find useful and interesting to you?
I love not only reading but also listening to books and podcasts. This is how I fulfill my time while I am running, cleaning, or driving in my car heading to Plovdiv.
There are a lot of books I can recommend, but here are some of my favorites which helped me become better in negotiations and self-development:
The list is big, but those 5 books have given me a new way of thinking that I appreciate most.
How do you level up your skills every day?
I am curious every time I do something, and I am looking for a way to improve and get better in my job. Of course, reading articles, newsletters, courses, and my leader and mentor Tony helps me a lot, and she's the one who fixes my mistakes when I don't see them. That's how I learn and grow.
What drives you to come to work every day?
Gogo! That's my lovely, red Toyota Aygo car.