Another week, another smiling face from the HackSoft team. In this week's edition, we would like to introduce you to Ventislav Tashev.
He is part of our software development team, always cheerful and willing to help his colleagues.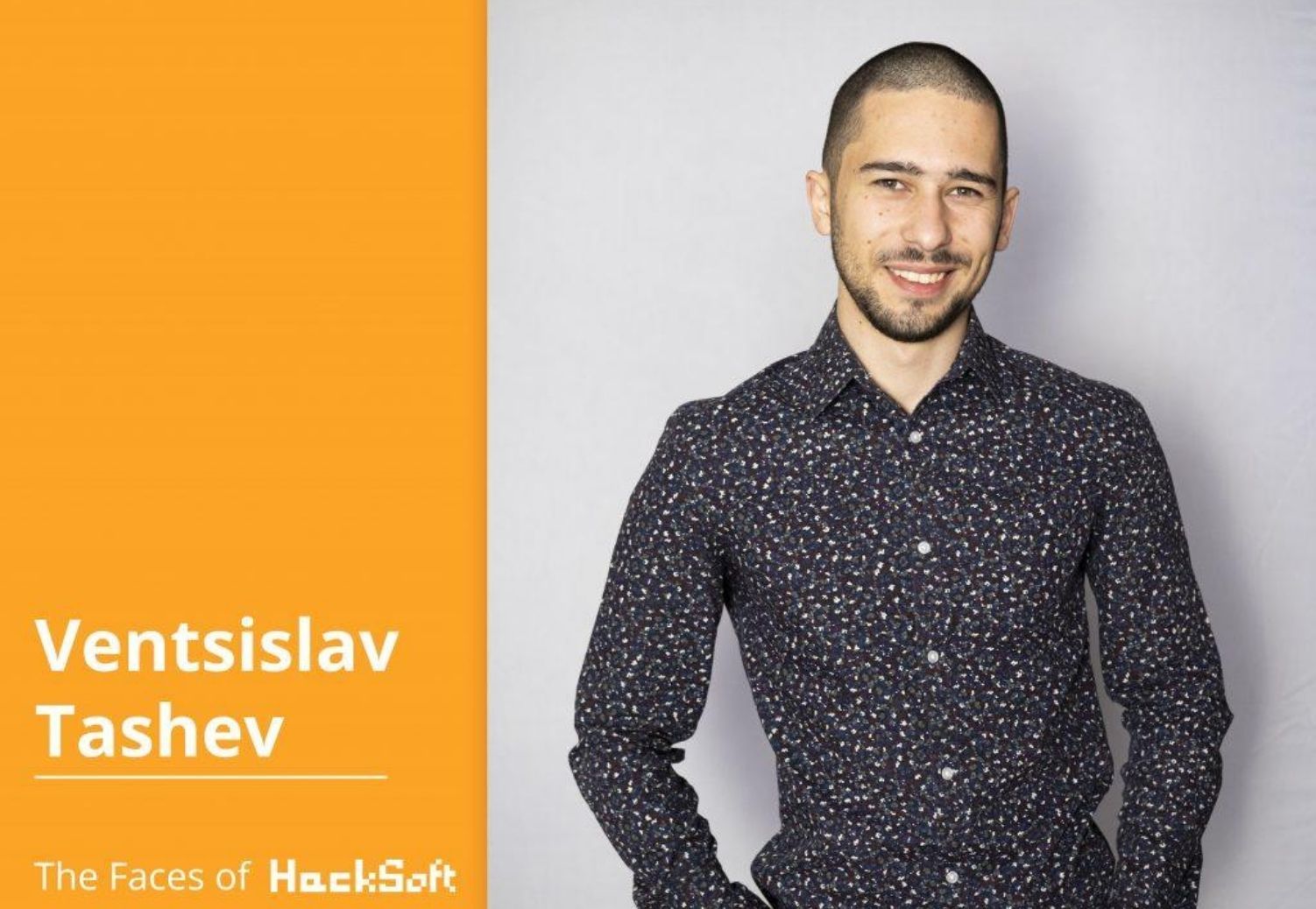 A year ago, when we were seeking a new member for our team, we met Ventsi, thanks to the Django Bulgaria community.
Ventsi is a regular speaker at the meetups of the group, and if you're curious to discover more, check out his latest talk.  
Can you tell us more about yourself?
I am Ventsislav (or just Ventsi), and I'm a full-stack software developer at HackSoft. I'm 20 years old, and I've been working in HackSoft for nearly a year.
Daily, I'm using Python (+ Django) & JavaScript (+ React) for the art of software development.
What's your hobby?
My hobby is doing sports. All kinds of sports. For the last few months, I've been actively practicing Brazilian jiu-jitsu (BJJ), and I think everyone should try it at least once in their life. Sadly, considering the current situation - I'm not able to train BJJ since it involves close physical human interaction.
What drives you to come into work every day?
I really like the quote: "If something doesn't make you happy - don't do it.".
This correlates to me 100%. In HackSoft, every day is valuable for me, and I always go home smiling and satisfied with what I've done. Of course, my top-class colleagues are the main contributors to this feeling.
What are your favorite technologies and why?
My favorite technologies are definitely Python & Django. I've been using them daily to build software for the last two years. I love the pragmatism and simplicity that are integrated within the core of both the language (Python) and the framework (Django). Of course, these are just tools to get the job done. But picking the right tools for you can produce magnificent results!
What helped you become a better software developer?
Proactivity, purposefulness and hard work. And StackOverflow.
Can you recommend a source that might be useful to other software developers?
There's a book which, in my opinion, is a must-read for every software developer  - "Clean Code" by Robert C. Martin. This is the first software development book that I've bought a few years back, and I can say that this is one of the most valuable sources on this topic that money can buy. I often come back to it and look up at different chapters, based on what I need. There's always some undiscovered wisdom hiding within those pages.
What's the motto that motivates you?
"There's no traffic jam on the extra mile."
If you have any questions for Ventsi— ask them in the comments to this post. You can also check out his article on how to build GraphQL queries with Python.