2023 started with a bang for HackSoft.
Our team has grown, and we would like to introduce you one of the new additions to it. Meet Yana, the latest member of the Marketing team. 🤗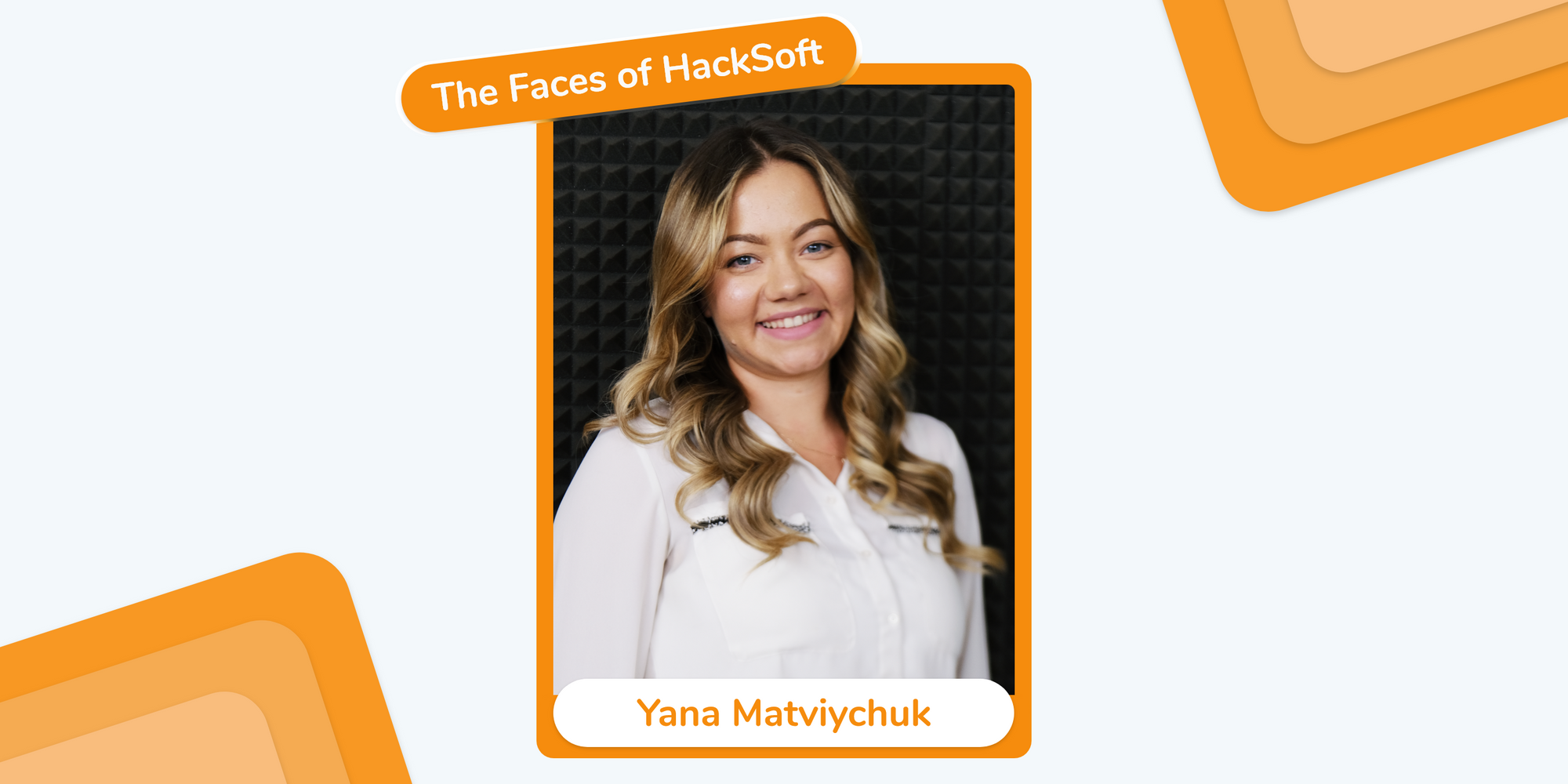 Can you tell us more about yourself?
My name is Yana, and I'm a member of the marketing team. 👋
I had yet to learn what marketing was when I was younger but I was always keen on organizing events and ensuring that everything ran smoothly. That is how I got my first job, which was all about event planning.
My interest in marketing grew, and I soon found myself diving into employer branding. After a while, I started working in B2B marketing and it got me so excited, so here I am now.
What are you working on and for how long?
I'm excited to say that I've recently joined the team, having been with the company for a little more than a month.
My primary focus right now is helping HackSoft to keep growing, creating a marketing strategy and execution plan for generating leads, and creating a solid foundation for our marketing efforts. I'm eager to get started and see what we can accomplish together as a team. I'm excited to be a part of this company and contribute to its continued growth and success. 🙌
Why did you decide to join HackSoft?
To be honest, I wasn't actively looking for a career change when I came across HackSoft's opportunity but I decided to give it a shot. I had heard about the company from friends who had attended the HackBulgaria courses, as well as from people working there. I had personally visited many of the HackConf editions, so I had a pretty good idea of what the company was all about.
For me, it's very important to feel like I'm part of something valuable, to feel like I'm making a difference. When I spoke with the folks at HackSoft, I could feel their passion for the work they were doing and I knew that this was a company where I could make an impact. It was clear to me that the team at HackSoft was focused on people, culture, and exceptional software solutions.
All in all, I felt that joining HackSoft was the right move for me, and I'm excited to be a part of such a dynamic and passionate team.
What are your hobbies/interests?
I'm a person who is always eager to learn and grow. I'm always seeking new ways to broaden my skill set and knowledge.
When I'm not at work, I'm all about living life to the fullest. Spending time with my friends is one of my favorite things to do. There's nothing quite like good company to make life better. 👯‍♀️
Traveling is also a big part of my life, I like to plan every detail of my trips and visit as many places as possible. ✈
I'm also a wannabe kitesurfer and a camper enthusiast, so I get to enjoy the great outdoors and live life close to nature. 🏄‍♀️🏞
What drives you to come to work every day?
For me, it's all about the sense of purpose and fulfillment that comes from doing a job that I'm actually enthusiastic about. I really like marketing and the challenges that come with it. Every day, I get up excited because I know I'll be able to work on projects that will bring success to the company.
The people I work with are also a major source of motivation for me. It is fulfilling to be a part of a team that is fun, friendly, and makes you feel like family. I'm impressed by my coworkers' ingenuity, hard work, and dedication. 💪
Tell us 3 fun facts about you:
I'm a person who enjoys adventure in all of its forms.🤸‍♀️ I'm always up for a new adventure, whether it's traveling to new and fascinating countries or trying out different cuisines. At the same time, I enjoy the conveniences of home and have a few favorite foods that I cherish. When it comes to my tastes, you could say I like the best of both worlds.
I'm also a big nature enthusiast. 🏞 My boyfriend and I keep beehives 🐝, which has been a very fulfilling and exciting experience for us. It's incredible to view the inner workings of a hive and to be a part of something so important to our environment.
I have a creative side that I enjoy exploring. 🎨 I enjoy expressing myself artistically through various ways such as photography, drawing, crafting paper flowers, making goblins and everything else that I happen to get in touch with. Although I am not the most skilled artist, I believe that making something with my own two hands is very satisfying and rewarding.
What helped you become a better marketing specialist?
Staying up-to-date, learning, and adapting has definitely helped me as the marketing landscape is constantly evolving.
The ability to collaborate with and learn from other talented individuals, however, has had the greatest impact. 🙌

Your development partner beyond code.