The HackSoft team has been growing and we have some new colleagues, we'd like you to meet.
Let's introduce you to Tanya Kokonyan - one of our recent hires and a backend developer at HackSoft. She is a motivated and capable individual, and we are happy to share her story. 🤗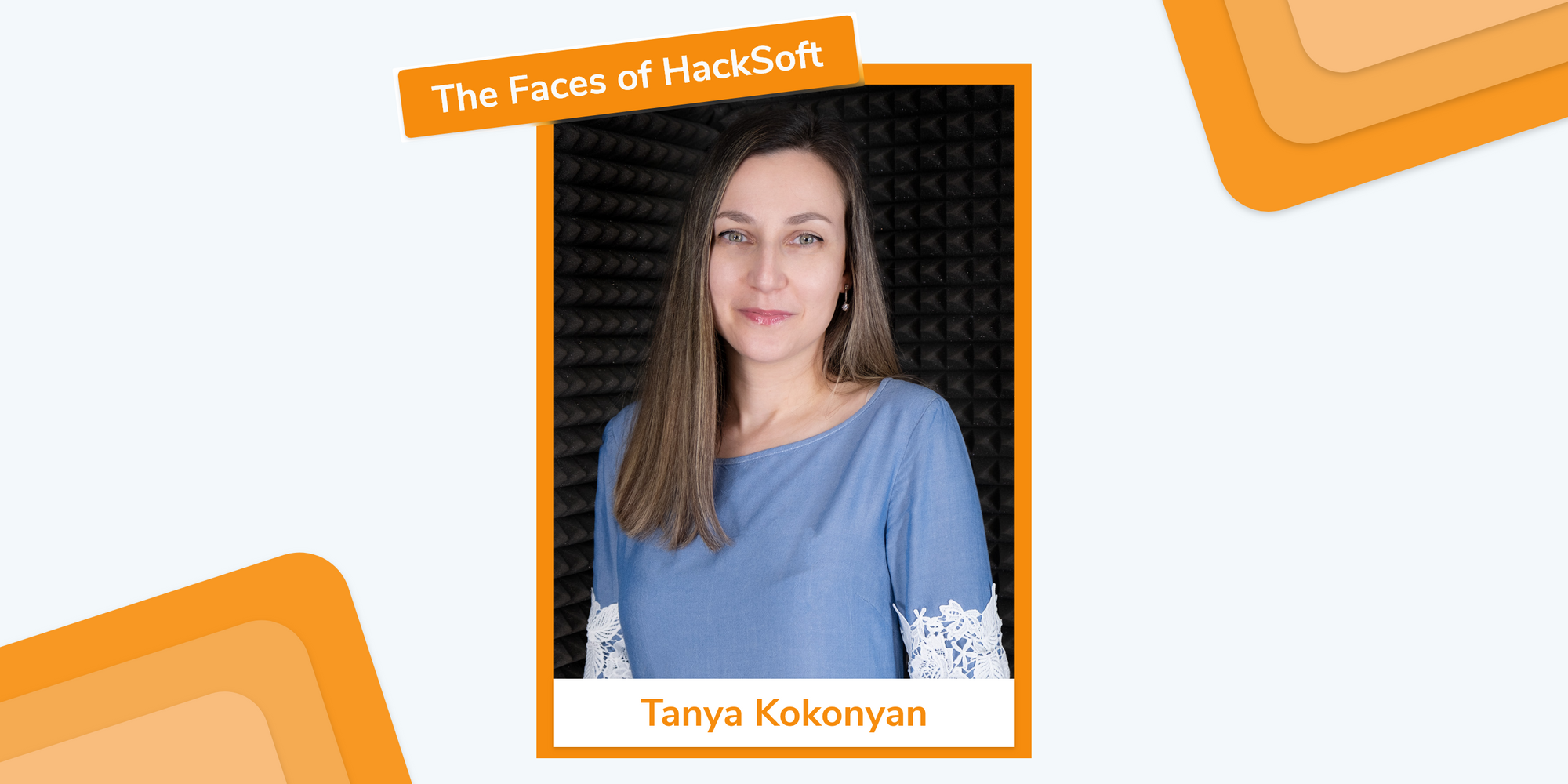 Can you tell us more about yourself?
I am Tanya and I have recently made a career switch to become a software engineer. 👩‍💻
My education and previous work experience are in the structural engineering field.
What are you working and for how long? What languages have you been using?
I have started in HackSoft as a backend developer, but during the last 2 months I am learning frontend, as well.
In my daily tasks I am using Python and JavaScript.
Why did you decide to join HackSoft?
As I learned from my previous work experience - you can not build or create anything significant without a trusted and reliable team.
I hoped to find such a team, as I was used to working with these kinds of people.
And I found it in my very first meeting with the HackSoft members, at one of the Django Bulgaria Meetups that they organize.
What are your favorite technologies and why?
It's hard to say, because I am only in the beginning of my developer career.
I can point out Django, as it's the technology I first encountered, and due to my Django knowledge I have started this job at HackSoft.
Can you tell more about the difficulties you faced at HackSoft from the very beginning until now?
As a brand new addition to the software industry, I was nervous whether I am doing things right. I was worried if I can meet the requirements and finish my given tasks.
But with the huge help and support from my dedicated mentors and colleagues, I have succeeded in finishing projects & tasks, for which I wasn't confident that I am capable of, from the beginning.
What are your hobbies and interests?
Every time, I am invited to an event of one of my friends - birthdays, baby parties or weddings, I like to create something handmade for them. 🤗
Sometimes, I get inspired to create things without an occasion, but most of the time, I do it personally for my friends and family.
What's the motto that motivates you?
Design with precision, build with passion. 👷‍♂️🎨
Name three HackSoft values that fit to your personality?
What's the most important piece of advice you would like to pass to folks, who want to become software developers?
I can summarize this in 3 points:
Don't be afraid to try and make mistakes.
Take the responsibility of your decisions.
Never stop learning.