Meet our colleague and friend, Pavlin Gergov! He is part of our software development team since the beginning of HackSoft. Pavlin is well-known for his temperament and loud speaking. His eagerness to help, thirst for knowledge, widespread interests, and sense of humor make him a special part of the team. We can even say that it's boring without him.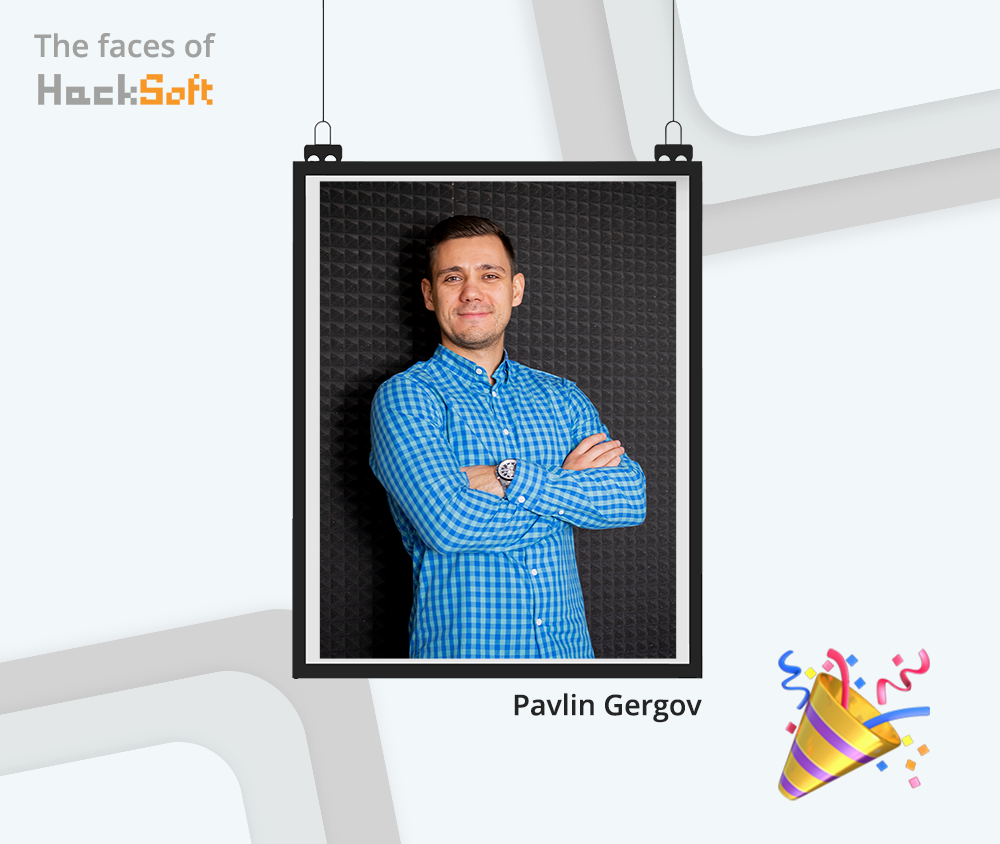 If you haven't met Pavli yet, take a look at the blog article and get some inspiration from him.
Can you tell us more about yourself?
My name is Pavlin, friends call me Pavli. I'm a 28-year-old physics graduate and I've been involved in the IT industry for the past 6 years. I love solving problems and creating solutions. Lately, I've been focused on developing my entrepreneurial mindset and educating myself in the field of economics.
What are you working on and for how long? What languages have you been using?
For a very long time, I was part of a Co-Living community project that started as a CRM and ended up as an ERP. After that, I changed a project or two, and right now we're working on a platform that will host a huge online conference after a couple of months.
Our main go-to tools are Django and React.
Why are you at HackSoft?
There's a saying:
You are the product of at least five people you hang around.
I was lucky to meet those people before HackSoft was founded. I've been here from the start and I fully support the company mission and values, hence why I'm here.
What is your hobby?
I love sports and healthy life. My main activities right now are squash and fitness. Meditation is on my To-Do list.
What are your favorite technologies and why?
I'm keen on Artificial Intelligence. It's a key part of the future self-driving vehicles. Humans are prone to errors and we need to find a way to reduce the costs coming from that. Medical physics is the area of my bachelor's degree and I believe AI can be applied to cancer treatment as well.
What is the motto that motivates you?
The sacrifices you make today will pay dividends in the future. When it comes to working hard to achieve a dream - earning a degree, building a business, we have to ask ourselves: "Am I willing to live a few years of my life the way many people won't, so I can spend the rest of my life like many people can't?"
What is the most important piece of advice you would like to pass to the junior developers?
The best way to learn programming is by doing. There're a lot of great books and videos about programming but at the end of the day, you need to sit down and write code. Lots of it.
What is your favorite tool you use daily?
Emacs. My editor is where I spend most of the day. Everything I do with Emacs is optimized for efficiency.
Do you have a morning routine, can you tell us what do you do before work?
Discipline Equals Freedom
by Jocko Willink
A man's entire philosophy boiled down to 3 words. Here's a brief summary of my morning routine which is inspired by the book:
Get up with the first alarm
Make the bed
Do any kind of morning activity - yoga, run, squash, fitness
Have a nice breakfast - at least 500 calories
If you win the morning, you win the day.

Your development partner beyond code.