It's time for another team member to take the spotlight. ✨
Meet Pavel Penchev, a backend software developer with a passion for crafting solutions and a drive for continuous learning. 💪
Let's see what Pavel shares about his experiences, interests, and why he chose HackSoft for his next adventure.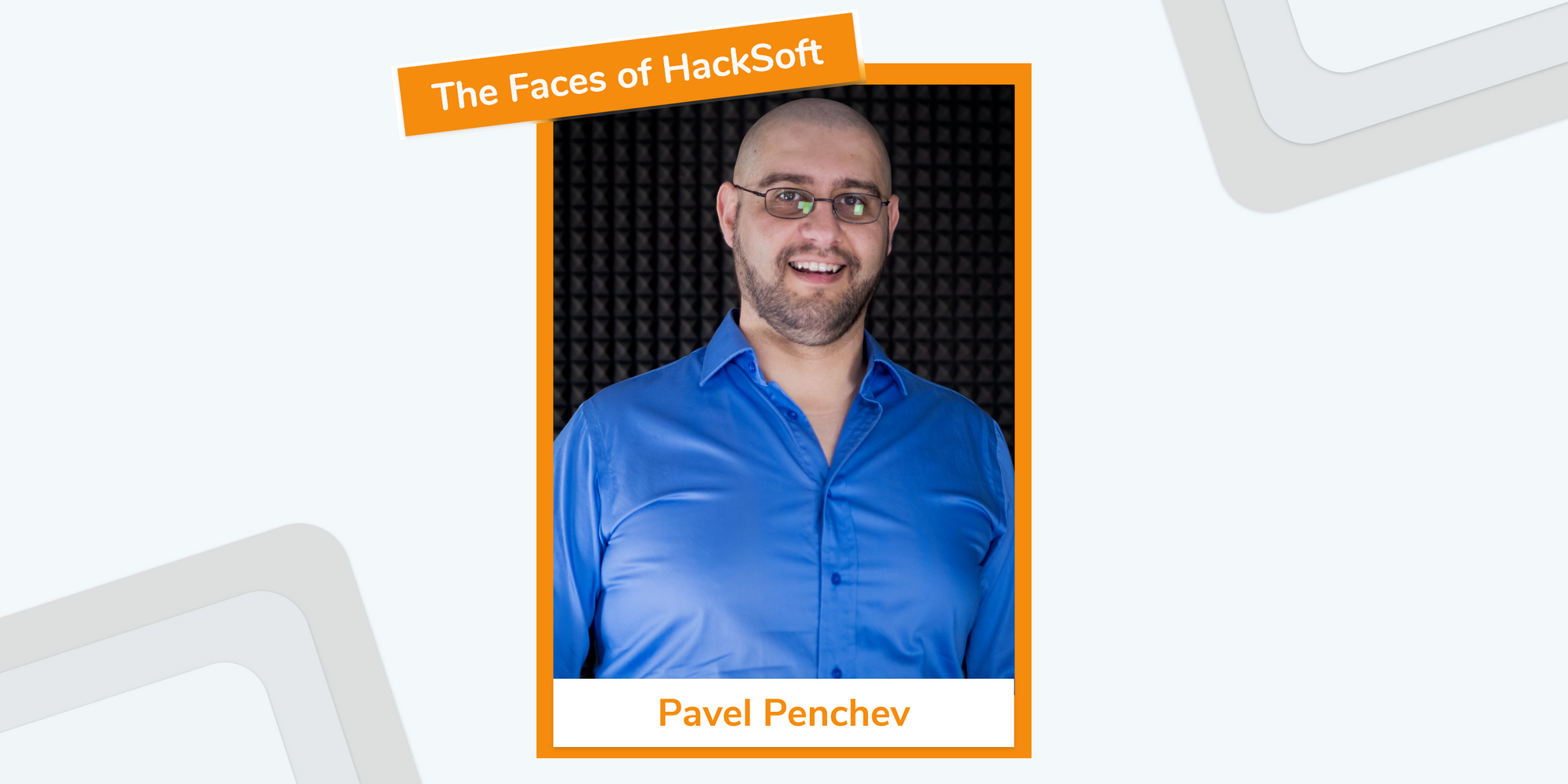 Can you tell us more about yourself?
Hi! My name is Pavel. 👋
Before starting my career as a software developer, my friends and I created a software that helps sellers to automate processes.
My responsibilities included testing the software, helping with sales, and being a speaker at public conferences, where we educate our customers. While I didn't write code at the time, it sparked my interest in software development.
In 2019, I started my first job as a full-stack developer with PHP and Vue.js. I learned several frameworks like Codeigniter, Laravel, Yii, and a little bit of Symfony.
I switched to Python in 2021 - the best decision of my life. 🐍 Afterwards, I was lucky to be able to learn how to set up automatic deployment on AWS, something I found to be very interesting.
What are you working on and for how long? What languages have you been using?
I work as a Backend developer with Python and Django, but I now have a new passion for learning React.

In my daily tasks, I am using Python with Django and JavaScript with React.
Why did you decide to join HackSoft?
During last year, I took part in every Django meetup that HackSoft organizes. This is how I learned about the company and how I connected with Rado, our CEO.
He explained the working model in the company and I was highly impressed. I like the processes here, I like that everything is well-organized.
The most important thing he told me was that he is also an active developer, not just a businessman. This really stood out to me.
Additionally, the warm and supportive atmosphere among the team is something I truly appreciate.
What are your hobbies/interests?
Since I've transformed my hobby into my profession, it might not require a special mention here. Apart from that, I also enjoy walking in nature and reading books. 🏞️📚
From a young age, I've been fascinated by innovators like Nikola Tesla. They found ingenious ways to make things work. In today's world, many breakthroughs have been made, but two fields are still rapidly evolving: programming and psychology. I'm driven by uncovering new solutions in both, harnessing human genius that pull us forward in development. 💡
What are your favorite technologies and why?
My favorite technology is Django. It is well-designed and, compared with other frameworks, it has no analog. 🙌
What's the motto that motivates you?
I don't want to be a spectator. I want to be a player. 😎
What is something that your colleagues don't know about you?
I learned to play the piano some time ago. 🎹
Can you share anything interesting about your team that you're proud of?
Most of my colleagues already are, or are on the path to becoming a team lead at the company. This shows how much the company values its people and their career development.
I'm very proud to work with such great people as these here in HackSoft.

Your development partner beyond code.