It's time to introduce you to another team member. Meet Miroslav Krastev, a backend software developer at HackSoft and a Django enthusiast.
Despite being one of our youngest colleagues, his enthusiasm and dedication are already making waves within our dynamic workspace. In this article, we'll delve into Miro's background, interests, and more.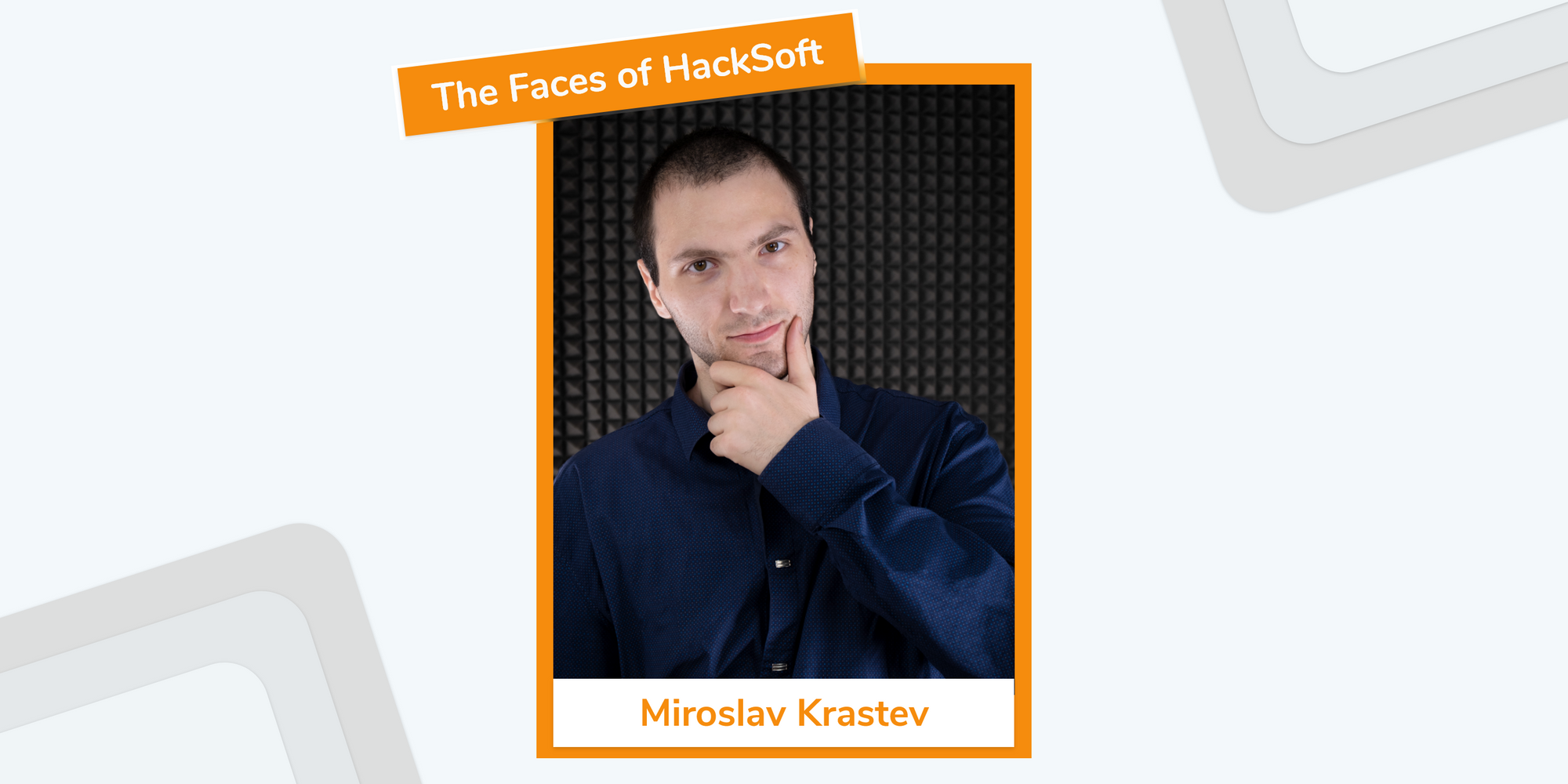 Can you tell us more about yourself?
Hello, I am Miroslav, 20 years old. I am a Software Engineer at HackSoft and also a CS Student.
Fun fact: I am the second youngest person at HackSoft. 👶
What are you working and for how long? What languages have you been using?
I'm working primarily as а Backend Engineer using Python & Django. I've been working with Django for more than 2 years now. 🐍
Why did you decide to join HackSoft?
I decided to join HackSoft because of the extensive Django knowledge they share through blogs, videos, conferences, and much more.
I wanted to be a part of the best Django company in Bulgaria, so I ended up here.
What are your hobbies/interests?
My primary hobby is also my job - Programming. 🧑‍💻
To add some variety, I have other interests as well. I enjoy cars and watching Formula 1. 🏎️
Additionally, I have a passion for cooking and consider myself quite skilled in the kitchen. 🧑‍🍳
What's the motto that motivates you?
Somebody is working harder than you.
You need to think about this: somebody, somewhere has a goal just like yours.
The difference? He's working harder than you to achieve it. So get up and get shit done.
What helped you become a better software developer?
The passion for my work and tackling numerous challenges over the years has been the key to my growth as a software developer. It boils down to this principle: if your passion doesn't burn like a laser, it might not be your true calling.
It's a continuous journey, driven by a constant commitment to improvement. 💪
What's your favorite tool you use daily?
PyCharm Professional. This tool is fascinating. It's incredibly powerful, with a comprehensive set of features that cover everything you can think of. It's easily worth every penny.
I'm a big fan of JetBrains' products.
Tell us 3 fun facts about you:
 1) I stopped drinking coffee earlier this year. Not being addicted to anything gives you so much versatility. ☕🚫
 2) My way of relaxing is playing video games. Some of the games that I play regularly are PUBG, Hunt Showdown, Dark Souls, Remnant II. 🎮
 3) I also like reading books. Two of the best books I've read this year are "Deep Work" and "Rework". 📚

Your development partner beyond code.