HackSoft expanded further this year and we are happy to present you the newest member of our team - Iveta Petrova.
Read what she has to share below. 👇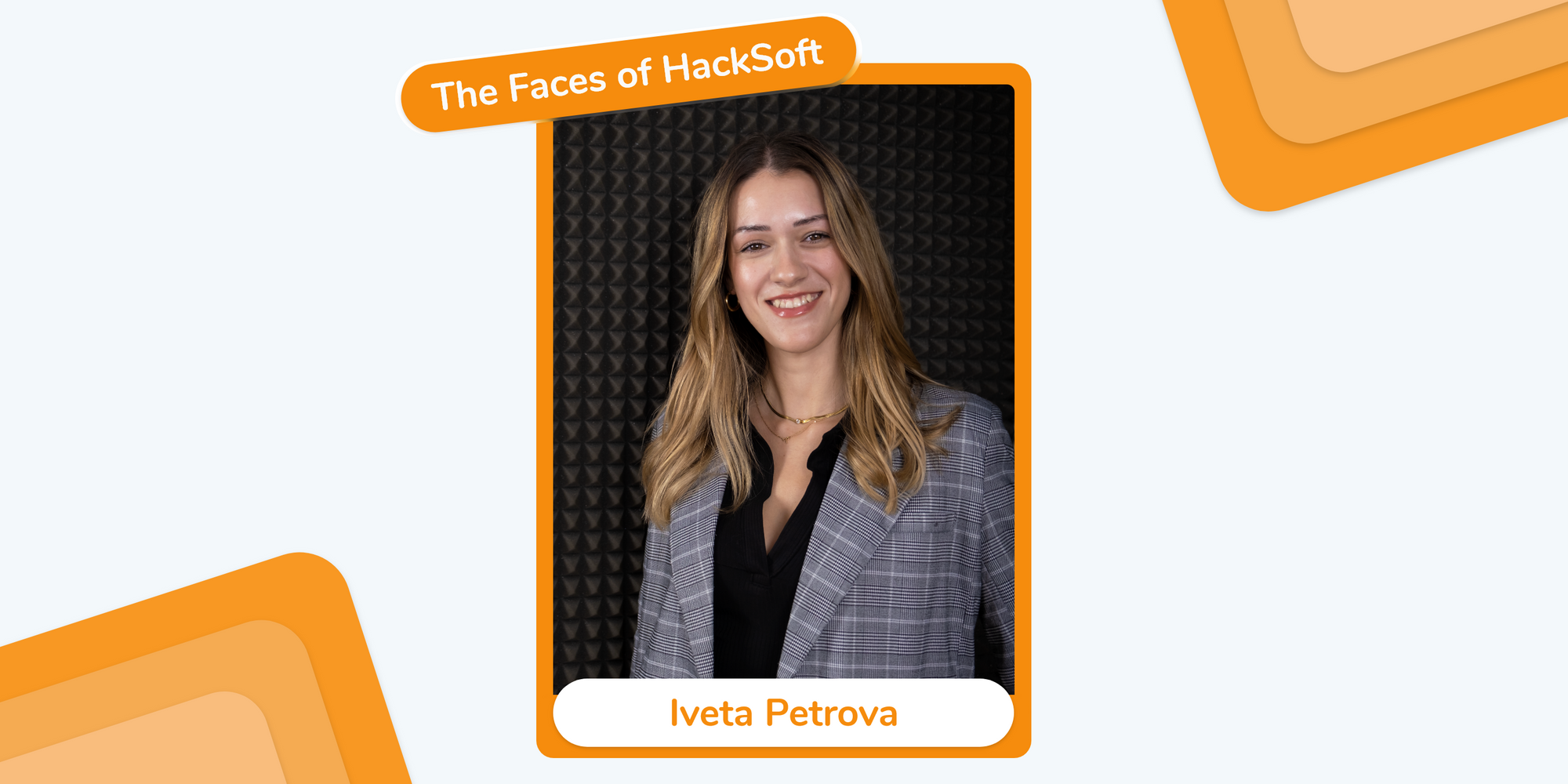 Can you tell us more about yourself?
My name is Iveta and I am 24 years old. I am from Kresna, but I currently live in Blagoevgrad. I have a Bachelor's degree in Marketing and a Minor degree in Graphic design. I am the newest addition to the Marketing team at HackSoft.
What were you doing before HackSoft?
In the last two years, I was working as a Marketing and Sales specialist, while also finishing up my studies at the New Bulgarian University.
Why did you decide to join HackSoft?
I had heard a lot about HackSoft, way before applying for my current position. I have always received positive feedback about the team and their way of working.
So when I decided it was time for a new career challenge, I immediately thought about the company and luckily, HackSoft had just announced their search for a new colleague for the Marketing team.
I think that the company culture and company values are what really 'sealed the deal' for me and I truly enjoy my time here.
What are your interests?
Ever since I was little, I have had a huge passion for design. In my free time I try to improve my skills, learn and develop in the field of graphic and UI/UX design.
Traveling is another thing I love to do. Whether it is somewhere near my home, or in another country, I take great pleasure in exploring new places.
Also, I have a puppy, which takes up most of my free time. 🐶
Tell us 3 fun facts about you:
I have practiced traditional Bulgarian dances for 13 years and sport dances for 7 years. 💃
I have a personal meme account, where I roast myself. 😳
I hold the record for the longest jump among girls at my high school - 2.20m. 💪
What don't your colleagues know about you?
Volodia Stoyanov is my great uncle. We have met only 3 times in my life, but still it's a great 'party trick' to share.
Also, I'm the biggest Justin Bieber and The Weeknd fan.
What helped you become better at what you do?
Reading, studying, observing.. Feedback, positive and negative.
It's a lot of trial and error, but you have to make sure you take your errors and turn them into success afterwards.
Name three HackSoft values that fit your personality?
Freedom and Responsibility, 'Get Shit Done' Attitude, Walk the extra mile.
Bonus: Mutual Respect.