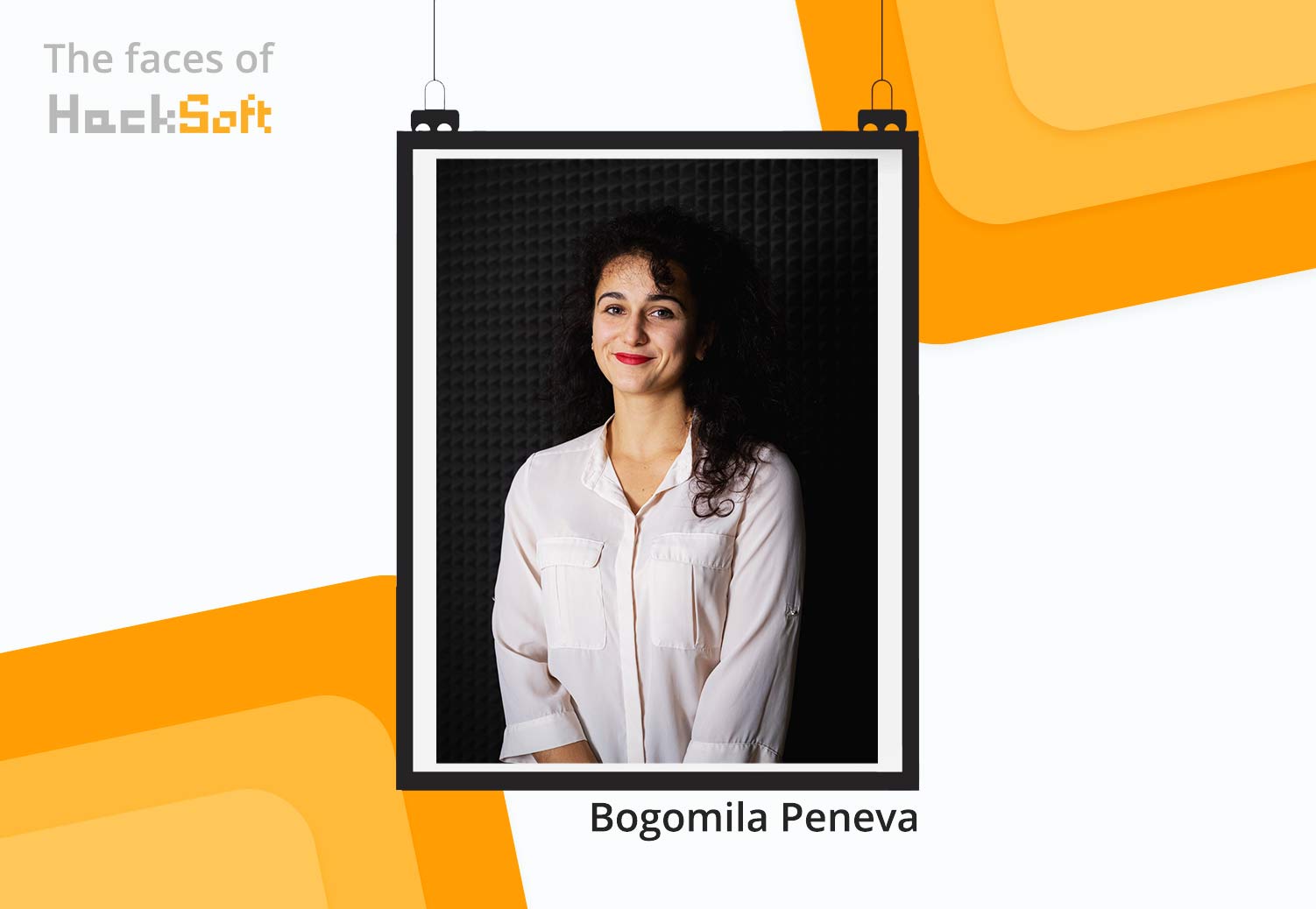 It is time to introduce you to Bogomila Peneva, who joined us in 2019.  She's a graduate of HackBulgaria's course "Programming 101 with Python".
Bogomila is at the end of her bachelor studies in the Faculty of Mathematics and Informatics Department at Sofia University. She is passionate about a healthy lifestyle, sport, fitness, yoga, self-development, and of course, programming. Her interest started with Python, and today she is studying Next.js. We are curious to see where her next journey will bring her.
Meanwhile, read more about her and why she came to the team:
Can you tell us more about yourself?
Hi, I'm Bogi. I am 23 years old and I have been working in HackSoft for nearly a year. I mainly use Python (+Django) and JavaScript (+ React) at work.
Why are you at HackSoft?
We spend about a third of our adult lives at work, it is easy to say that our jobs have a huge impact on our happiness.  That's why I am at Hacksoft. I am happy when I have opportunities for all different types of growth when amazing people surround me.
What are your favorite technologies you use daily?
My favorite technologies are Python and React, they are easy to use and easy to learn.
What's your hobby?
I love reading books about how food impacts our bodies and health. I practice yoga daily because it helps me focus and stretch my body after an intense workout.
What don't your colleagues know about you?
Apart from some fish, maybe they don't know that I haven't eaten meat since April.
What's the most important piece of advice you would give junior devs?
Pick opportunities that will challenge you the most and learn as much as you can! Ask lots of questions, be curious and work as hard as you can!
What was the last thing you learned at work?
Currently, I am learning Next.js. It is a React framework that makes server rendering easier than ever.
Can you tell more about the difficulties you faced at HackSoft during the last year?
In the beginning, I found it really challenging to deal with all this data and to plan my code before I write it and I'm still working on that. At the moment, I am working on my communication skill set. In the course of time, I found that it is very important because the right communication can contribute to achieving the set goals.
My motto:
'Life is not about how many times you fall down. It's about how many times you get back up.'

Your development partner beyond code.