Meet our driven and (effortlessly) cool colleague, Peter!
Peter is part of the HackSoft software development team, working on both the front-end and back-end sides of the projects. He has tried various programming languages and multiple hobbies. Did we mention he has also been a chess player?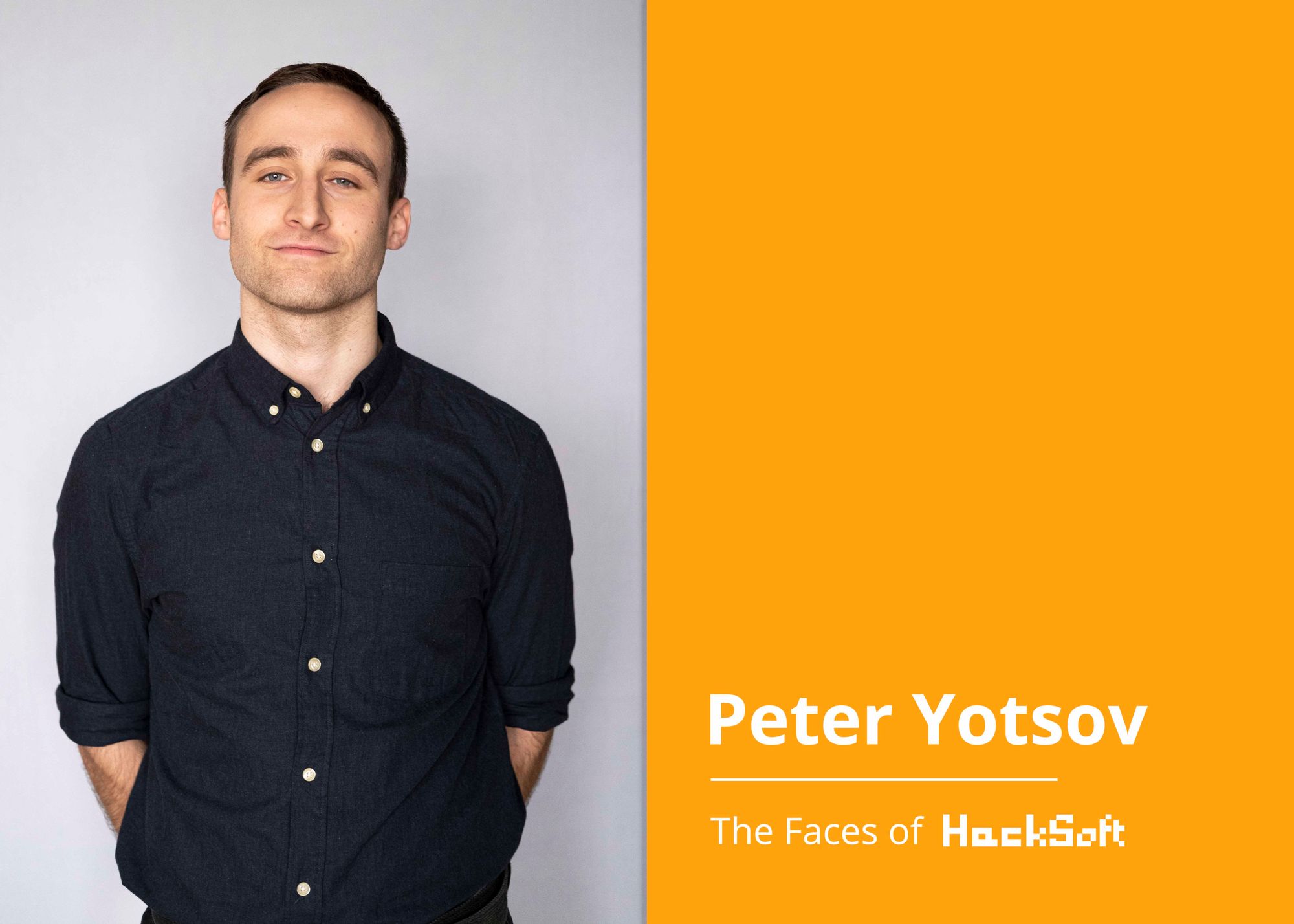 Let's see what he shares about his experience in the team and his other talents.
Can you tell us more about yourself?
Hi, I'm Peter. I've been a part of HackSoft for almost two years. I've worked on multiple projects during my time here, some of them are The Collective, Unissu, DotaHaven, and, most recently, Kallanish. I consider myself a mostly back-end developer, but I have dabbled with front-end development on multiple occasions across the projects I've worked on.
Why are you at HackSoft?
Hacksoft provided me with the opportunity to first get into software development through the HackBulgaria courses, which they've been holding for years. Throughout the courses, I met most of the HackSoft team and was more than happy to jump at the opportunity when they asked me to become part of that team after our class graduated.
What are your favorite technologies?
I'd have to say Python and React. I've worked with a couple of languages before trying Python, and it instantly won me over with how intuitive and straightforward yet powerful it was. Coupled with React, they make building websites a breeze.
What are your hobbies?
I want to think of myself as a multifaceted person, so I've tried my hand at quite a lot of things. Some of the things I've stuck to are playing guitar, chess, riding skateboard and snowboard, going to the gym, playing football and running in general. Also, any extreme sport or activity, in general, I'm always up for.
What helped you become a better software developer?
Definitely, my colleagues and our working environment. I tend to be a bit stubborn and quickly became frustrated and stressed. The team at HackSoft has helped me become calmer and more flexible, which I consider a big advantage both in my professional and personal life.
What do you like most about our company culture?
The constant willingness to help each other. The friendly attitude. The laid back atmosphere which doesn't impede the work ethic in the slightest. And last but not least, the fact that we rarely fall victim to the "Law of the golden hammer" - if there is a better way to do things which we haven't used before everybody is open to it.
What's the motto that motivates you?
"Born to lose. Live to win."  It's not so much a motto as it is a Motorhead album, but I've always related to it, and it has helped me keep on my grind despite any hardships I may encounter. Whatever happens, it's not over until I win.
What don't your colleagues know about you?
When I was younger, I played chess quite a lot, and I've won a couple of regional competitions. I guess it has probably helped my analytical thinking, which in turn translates well into what I do now.