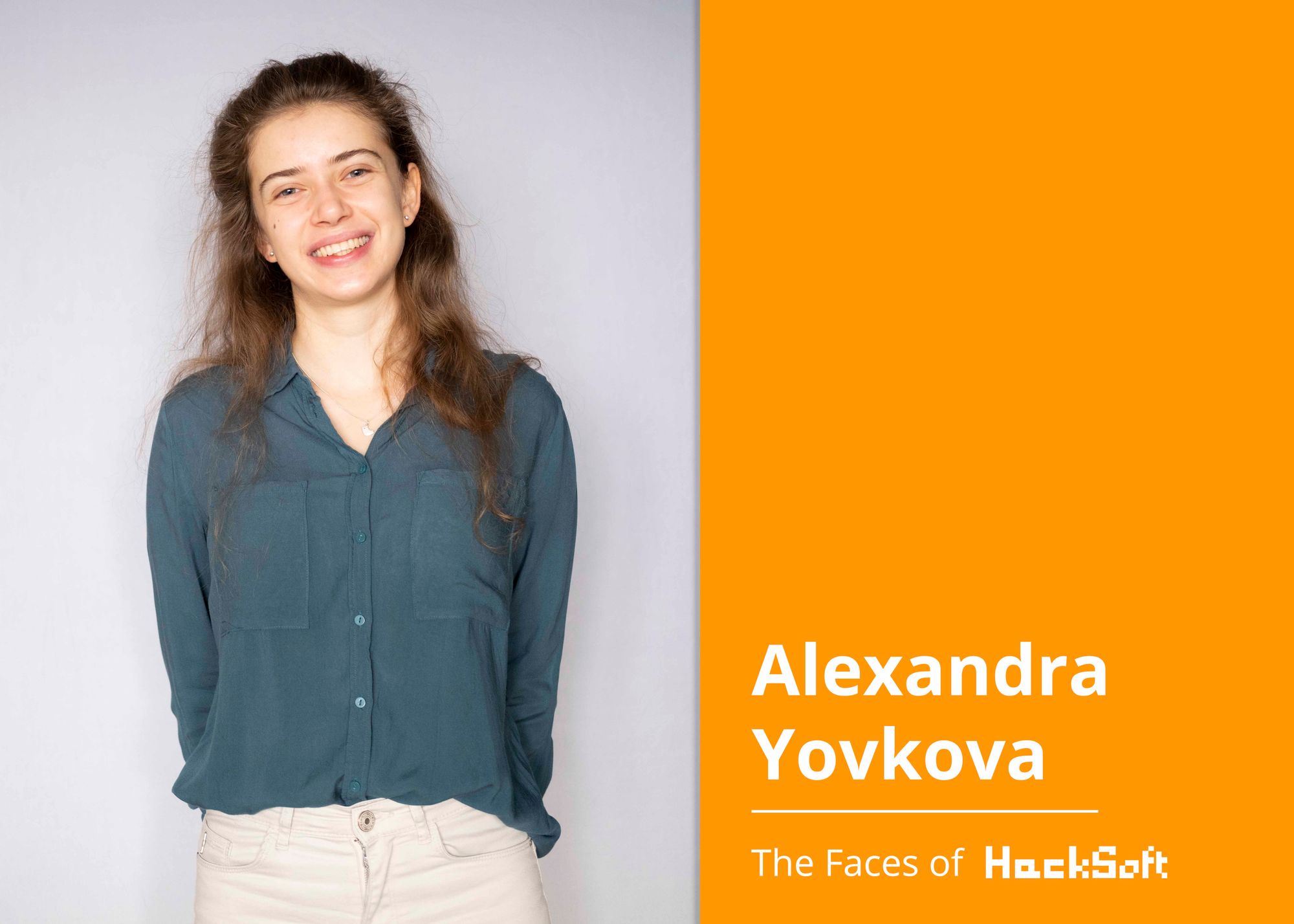 One of our youngest team members - Alexandra Yovkova can charm you with her smile, intellect, and thirst for knowledge. Still being a student, but handling many more activities in her spare time when she is out of the office, makes her an incredible person.
Even though she is one of the youngest, she's a great developer too. Her ideas and recommendations might be useful to anyone. Get some inspiration from the interview with her:
Can you tell us more about yourself?
My name is Alexandra. I am a 21 years old girl who is always seeking for good music, books, places and moments. I am currently a software engineering student at Sofia University and part of the HackSoft's team. I am a living creature, person, student, worker, couch potato, active hiker, craftsman, and some more depending on the situation. I love animals and staying in the woods.
What are you working, and for how long?
I have been working as a software developer at HackSoft for over a year (13 months). Since then, I have been using Python(with Django) and JavaScript(with React).
Why are you at HackSoft?
I am at HackSoft because of the mutual respect, friendly atmosphere, knowledgeable colleagues, and interesting and dynamic projects.
What is your hobby?
I have a few hobbies – reading books, hiking, and doing craft-work. In my spare time, I like to make wood carvings and earrings, to draw or to learn to play the guitar.
What are your favorite technologies, and why?
Django and Github. Django gives many opportunities and out-of-the-box solutions for common problems on the web. I like it because it provides a solid basis for the overall idea of web development. Django is huge, and I am still discovering new things about it. On the other hand, Github is not just a place where you store your project's codebase but also a place to search for ideas, inspiration, and knowledge from people better than you.
What is the motto that motivates you?
"Make today the day you learn something new."
My notebook and pen – this way, I can arrange everything better than in my head.
Name three HackSoft values that fit your personality?
"Long term thinking," "Mutual respect," "Get shit done attitude."
Daily.dev – it is a browser extension that recommends you articles based on your interests. Not to sound like advertising, but since I started using it, there is always something interesting when I open a new tab.