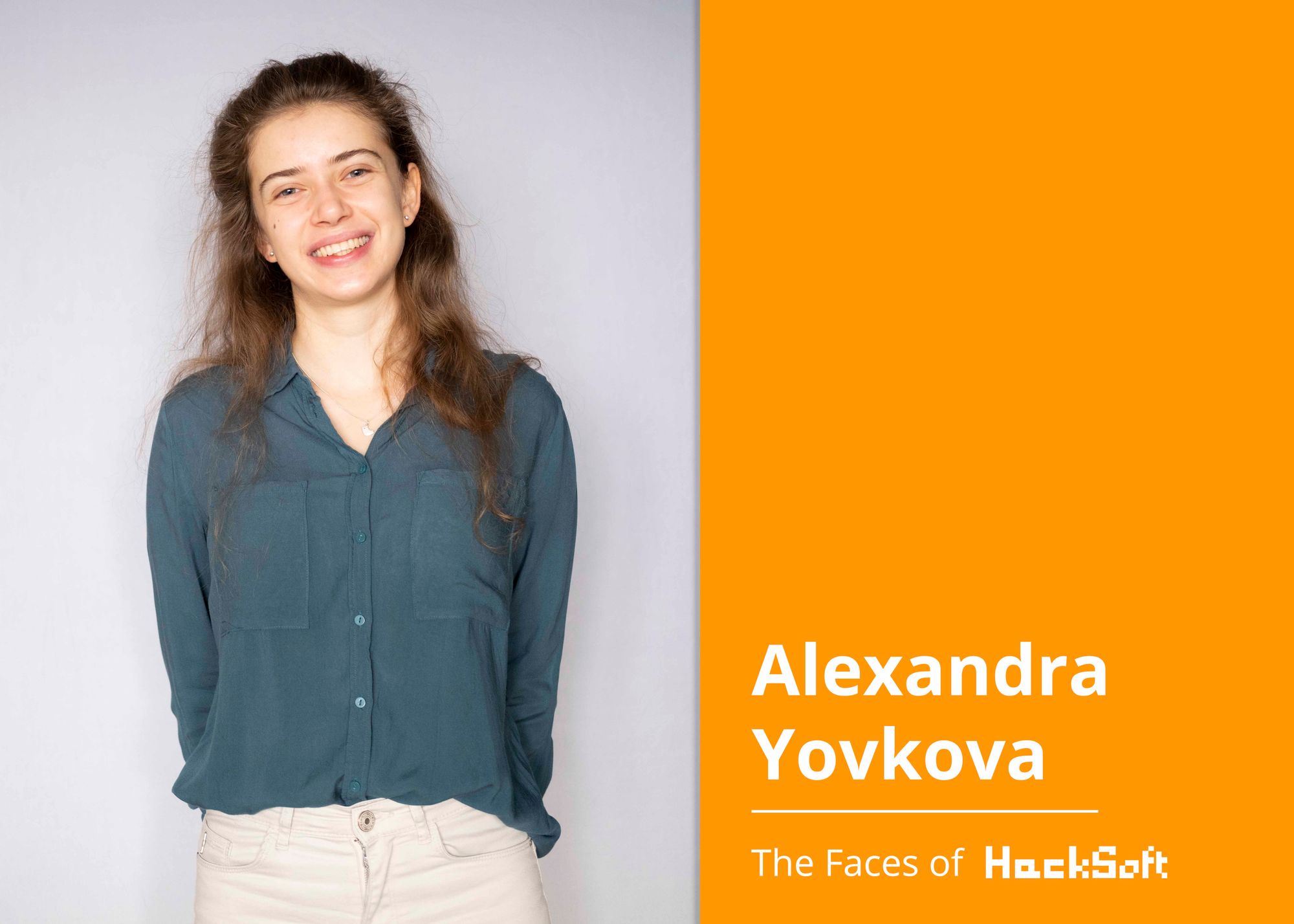 On the spotlight is one of our most cheerful team members - Alexandra Yovkova. She can charm you with her smile, intellect, and thirst for knowledge - the formula that we couldn't miss when we met her during the 9th edition of the course "Programming 101 with Python."
Get to know her and take some inspiration from the interview with her:
Can you tell us more about yourself?
My name is Alexandra. I am 23 years old and still exploring the beauty of the world we live in. I was always curious and eager to know more about everything and explore new territories both for places and hobbies. I love nature, animals, reading books, doing craft-work at home and making people around me happy.
What are you working, and for how long?
I have been working as a software developer at HackSoft for two and a half years. For this period I have been using Python (with Django) and JavaScript (with React and Angular).
Why are you at HackSoft?
I am at HackSoft because of the mutual respect, friendly atmosphere and the ability to grow personally and professionally.
What is your hobby?
I have a few hobbies – reading books, hiking, and doing craft-work. In my spare time, I like to make wood carvings and earrings, to draw or to learn to play the guitar.
What are your favorite technologies, and why?
Django and Github. Django gives many opportunities and out-of-the-box solutions for common problems on the web. I like it because it provides a solid basis for the overall idea of web development. Django is huge, and I am still discovering new things about it. On the other hand, GitHub is not just a place where you store your project's codebase but also a place to search for ideas, inspiration, and knowledge from people better than you.
What is the motto that motivates you?
"Make today the day you learn something new."
What is your favorite tool you use daily?
My notebook and pen – this way, I can arrange everything better than in my head.
Name three HackSoft values that fit your personality?
"Long term thinking," "Mutual respect," "Get shit done attitude."
Can you recommend any technology or tool that you find useful and might help other developers too?
Daily.dev – it is a browser extension that recommends you articles based on your interests. Not to sound like advertising, but since I started using it, there is always something interesting when I open a new tab.
👉 Read more from Alexandra and her Python and Django specialty in her newest article "Handling timezone and DST changes with Python".